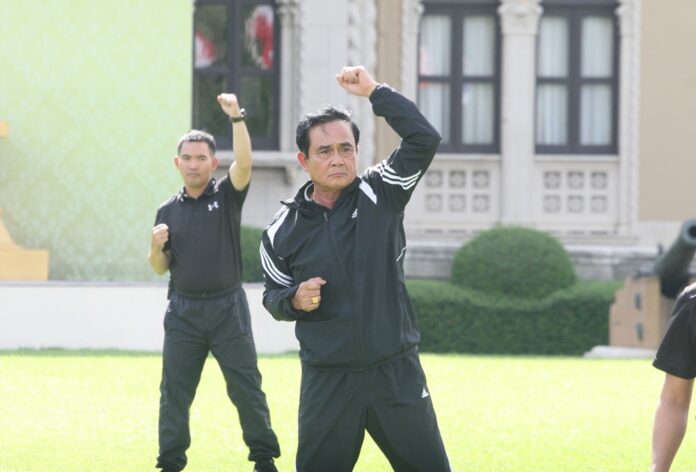 BANGKOK — Politicians from both major camps Tuesday urged junta chairman Prayuth Chan-ocha to clarify whether he will form a party for the next election.
The calls followed Gen. Prayuth's non-committal answer to a reporter's inquiry on whether he will run as a candidate as suggested by more than half the respondents to a recent poll. Prayuth, who seized power in May 2014, has never made it clear if he would return to lead the next civilian government.
"Don't bother with the question of whether I will stay on, and whether I will form a political party," Prayuth said at a Tuesday news conference. "I only want to make the best of today. The situation will indicate what we should do in the future … the future is up to the people."
Read: Poll Claims Over Half Support Prayuth's Return as PM
In a June 21 survey conducted by the National Institute of Development Administration, about half of 1,250 people said they supported the idea of a pro-junta party to carry on the work of the current regime.
"As for the poll, I thank those who support me, and I also thank those who don't support," the retired general said. "I will listen to opinions from both sides."
Speculation over whether Prayuth will continue his rule has grown louder as the country moves toward its first post-coup election, set to take place in late 2018.
Former Democrat MP Nipit Intrasombat told reporters Tuesday that the junta chief should be straightforward about what he has in mind.
"I have said long ago that he should declare his intention. If he's not clear, people will wonder if he's playing a political advantage," Nipit said. "Please say it loud and clear. It will be the best for all sides. People who support him will pour their support to him."
Former Pheu Thai MP Weng Tojiarakarn said he's convinced that Prayuth will not form his own party because doing so could only damage himself.
"In the past, when military regimes seized power, drafted constitutions and held elections, they always formed a pro-military party," Weng said by phone. "Then it always turned out that they caused so much damage. It was a mess. So I don't think [the junta] will form their own party."
Instead of directly playing politics, Weng believes the regime will form a coalition of existing pro-junta parties or politicians to serve as its proxies in the next election. He said we would only find out when the election drew closer.
"I don't think anyone can force Gen. Prayuth to clarify his intentions," said Weng, a Redshirt activist. "He will only clarify his intentions clearly when the election is really close."
Former Pheu Thai premier Yingluck Shinawatra struck a conciliatory tone, saying it would be "a good thing" if Prayuth ran in the next poll.
"In fact, it's a good thing, because what people want to see is a country leader who comes from elections," Yingluck said before attending Tuesday's court hearing for her corruption trial. "I give him the chance."
With or without a pro-junta party, the regime is already set to retain some influence over the next civilian administration. Last week the junta's rubber stamp parliament approved a bill that would allow the military a power to oversee Thailand's social, economic and political policies.
Related stories:
Interior Ministry Weighs Taking Prayuth's '4 Questions' to the Public
Suthep Endorses Constitutional Loophole to Keep Prayuth in Power