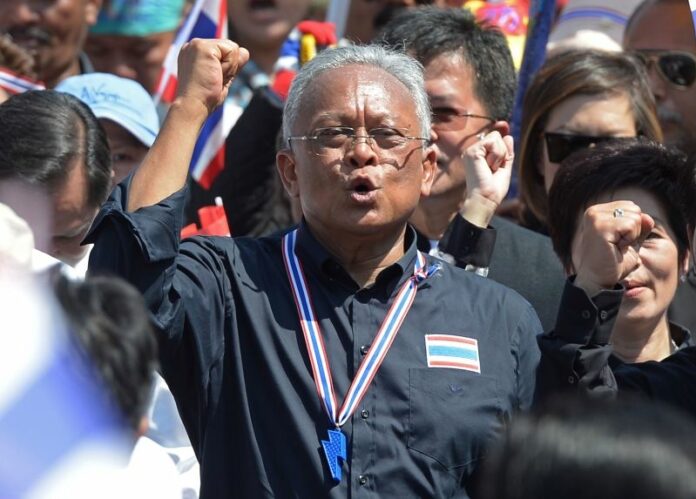 BANGKOK — As Thailand moves closer to its first election since the 2014 coup – possibly as soon as next year – many wonder whether junta chairman Prayuth Chan-ocha will step down from his post or continue his tenure as premier, one way or another.
Under the new charter drafted at the junta's behest, it is possible for Gen. Prayuth to continue serving as prime minister without standing in an election – whether or not a parliamentary majority nominates him – through a loophole written into the new junta-backed constitution.
That means of keeping Prayuth in power – through an emergency constitutional clause written into the new junta-backed charter – got its first vocal support Thursday from one of the retired general's most ardent supporters.
Read: Division? What Division? PCAD and Democrats Deny Schism
"I want to tell all the politicians that the people want Gen. Prayuth to be prime minister!" radical conservative activist Suthep Thaugsuban told reporters Thursday. "And Gen. Prayuth does not have to set up his party, as long as some politicians and the Senate support him."
That's bad news for the leaders of both the Pheu Thai and the Democrat parties, who have already ruled out naming any "outsider" candidates. Under previous constitutions, that would have lowered Prayuth's chance of being nominated to effectively zero.
But as Suthep pointed out, the emergency clause allows the Senate – whose entire membership will now be handpicked by the junta – to sway the vote and override any resistance from the elected members of the House.
In Section 272 of the voter-approved constitution, if a simple majority of the 500-seat lower house can't agree on who should be prime minister, then a joint vote will be called with the upper house to decide who secures the top government seat.
That raises the number of votes from 500 to 750.
Instead of needing 251 votes to clear the parliament, the simple majority threshold rises to 376 with the infusion of 250 military-backed senators, who are likely to vote together as a block.
That means only 126 of the 500 democratically elected representatives – instead of 251 – would be needed by the unelected senate block to prevail.
Suthep, a former Democrat deputy prime minister turned activist, said he's confident this will happen, citing his own experience as a veteran deal breaker.
"In the past, I used to manage the government and secure votes from many parties to set up governments," Suthep said Thursday. "Today, I believe that politicians are aware that the people are concerned for their country."
Amorn Wanichwiwatana, spokesman of the junta-appointed committee that drafted the charter, said the scenario is possible "at least in theory."
"It means they won't have to select someone in a box," Amorn said by telephone. "They can select someone outside the box."
Paving Way for Prayuth
Suthep, who commands wide support among Thailand's pro-establishment camp, has spent recent weeks campaigning for the junta leader's second term as premier. At this time, Gen. Prayuth's tenure has already exceeded that of his elected predecessor, Yingluck Shinawatra, making him the longest-serving military prime minister since the Cold War.  

"Many of Gen. Prayuth's opinions match the people's," Suthep said Thursday in a media interview. "I still want to see Gen. Prayuth serve his country for one more term as prime minister in the transition period."
Pro-democracy activists have long accused Prayuth of intending to maintain his grip on power over a future civilian government, especially when the new constitution was written in such a way to legally enshrine his ability to do so.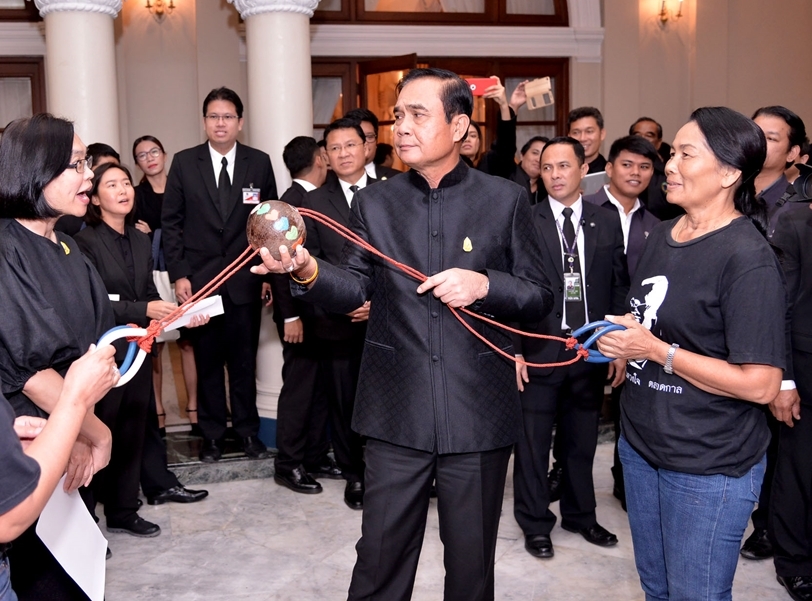 Alarms were raised again one week ago when Prayuth posed loaded questions during his weekly national address. He posed loaded hypotheticals about the importance of elections and what should be done if they fail to deliver good governance .
"Do you think the next election will lead to a government that practices good governance?" Prayuth asked before following with another question, "If not, what should we do?"
The questions prompted politicians opposed to the junta to lash out and accuse Prayuth of toying with the idea of delaying the election yet again, or even installing himself as the head of the next government.
"Apart from asking these loaded questions, Gen. Prayuth also sowed doubt about his own constitution and showed his addiction to absolute power by hoping that people will call on him to continue wielding absolute power for a long time," former Pheu Thai minister Chaturon Chaisaeng wrote online Saturday.
But for a hardliner like Suthep, who is heeded by Thais who believe deep structural issues must be solved before democratic institutions can flourish, there's nothing wrong with more years of Prayuth.
In his Thursday interview, Suthep was asked if supporting an unelected premier was appropriate.
"Let me ask you, who else can I support? Who else can I trust to take care of Thailand?" the firebrand said in reply.
'If the People Accept It …'
Among the first to disagree with that was the head of Suthep's party and prime minister he once served as deputy.
Speaking Friday, former Democrat Party Prime Minister Abhisit Vejjajiva urged caution against using the emergency provision to bring the Senate into the vote, lest senators tilt the balance of power.
"If they do that, the people may think we brought in the senators, who are appointed, to confront the elected majority," Abhisit said, without calling out Suthep by name.
But Amorn, the constitution drafting committee spokesman, said the clause was written as a "solution" for any possible deadlock, and the Senate will only step in when the elected politicians fail to reach agreement with one another.
Asked whether he thinks the emergency clause will be activated right away in Thailand's first election under the new charter, Amorn said, ominously, there's always a chance.
"If you are asking me is it possible, is there a chance, then yes, there is," the spokesman said. "It depends on who will be in the new government, and depends on whether the public accepts it. If the people accept it, there won't be any problem."
Related stories:
Suthep Welcomes Five More Years for PM Prayuth
New Charter Spells Out Late 2018 Election, But No One's Certain
Interior Ministry Weighs Taking Prayuth's '4 Questions' to the Public