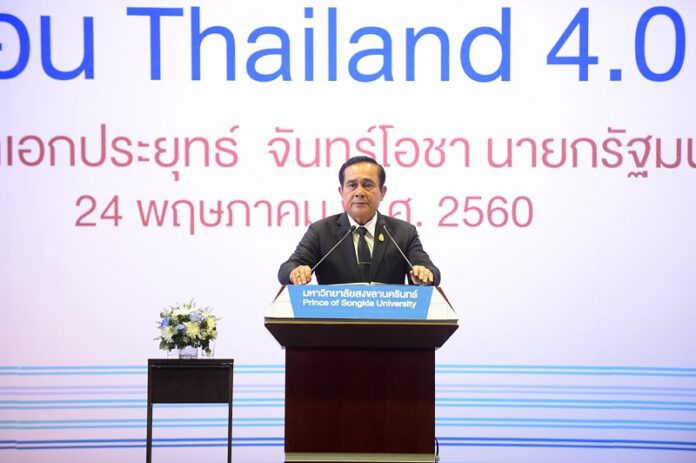 BANGKOK — The Interior Ministry's announcement it may seek answers from the public to four controversial political questions recently posed by junta leader Gen. Prayuth Chan-ocha was met with skepticism Tuesday.
In a move that's been denounced by critics as a thinly veiled attempt to justify prolonging the junta's stay in power, Prayuth on Friday posed four loaded questions about Thailand's political future that deepened suspicions he may tear up his roadmap to restoring democratic rule.
The Interior Ministry, which oversees local administration nationwide, is considering carrying out the task but wants some of the questions tweaked for clarity, Permanent Secretary Kritsada Boonraj said Monday.
Read: Govt Defends PM's Leading Election Questions
He said the ministry is discussing the matter with the prime minister's office because he wants to ensure such a survey would be reliable.
Responding to criticisms that such a survey would invite abuse and produce unreliable results, Prayuth Monday denied he intends to hold onto power past his roadmap to return power to the people by posing such questions.
Among the four questions Prayuth posed to the nation Friday were:
"Elections are important for a democracy. But they are not the sole determinant of the country's future and other matters, such as whether a country has a strategy or undergoes reforms, is this true or false?"
Kritsada did not identify which questions' wordings might be problematic.
Pro-democracy critics said all of them were.
Korakot Sangyepan, 24, a member of the Democracy Restoration Group, said the process would be neither fair nor reliable, particularly when the public has no role in framing the questions.
"There's also no forum for people to criticize the junta like there would be under normal circumstances. It's as if it doesn't really want to know the truth," Korakot said, adding that she thinks it's an attempt to measure the junta's popularity.
Any attempt by state organs to get answers to Prayuth's questions cannot be reliable as the organizations are not independent, Chulalongkorn University philosophy professor Soraj Hongladarom said.
Soraj said that if the military wants to be trusted with making a good-faith effort to weigh public opinion, it should hand it off to independent bodies such as an NGO or the Election Commission.
Soraj agreed with those who said the questions could lead respondents to become complicit in legitimizing the junta's stay in power.
The plan was not met well online.
"It's not going to work. The voices of the majority of the people can only be measured in elections," Facebook user Iam Doung Suttha wrote Tuesday.
"They probably made up the answers," Facebook user Monchai Tapsuri Plowboy said.
The four questions Prayuth wants posed are:
"Do you think the next election will lead to a government that practices good governance? If not, what should we do?"
"Elections are important for a democracy. But they are not the sole determinant of the country's future and other matters, such as whether a country has a strategy or undergoes reforms, is this true or false?"
"Do you think that politicians who've shown inappropriate behavior should have the opportunity to seek office again? If they gain office again and new problems arise, who should fix them and with what means?"