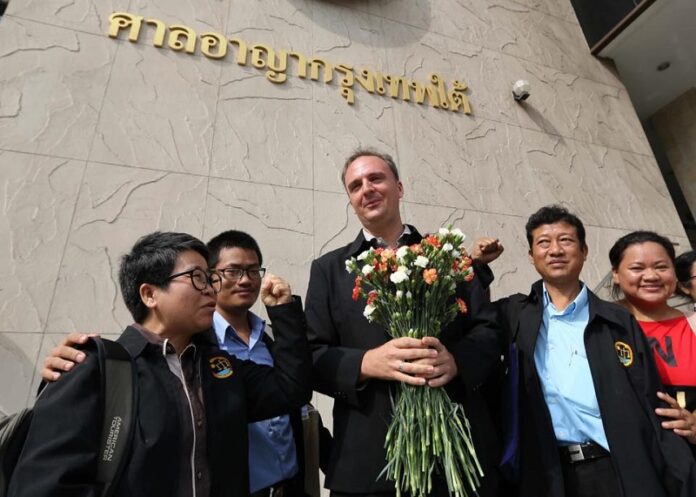 BANGKOK — A labor rights activist who left Thailand under mounting legal pressure announced Tuesday he will file criminal complaints against Thai authorities for wrongly bringing a criminal case beyond Thai jurisdiction against him.
Through local legal representatives, Andy Hall, who quit Thailand last year after many years advocating for migrant workers, announced he will file misconduct complaints against nine state prosecutors and a senior Bang Na district policeman. The 10 were involved in prosecuting him for criminal defamation over a 2013 interview he gave to Al Jazeera in Myanmar.
That case went forward based on a complaint from the Thai fruit juice company behind at least four lawsuits brought against Hall for a Finnish watchdog's report on its labor abuses.
The Supreme Court dismissed the case in November, ruling that because the Al Jazeera interview took place in Myanmar, it was beyond the jurisdiction of a Thai court. It also cited a flawed and unlawful interrogation by police investigators.
Read: Worker Advocate Hall Quits Thailand Over Harassment, Threats
Hall's lawyer plans to press charges Wednesday morning under Article 157 of the Penal Code, alleging the prosecutors and policeman involved in getting the Al Jazeera case before the Central Criminal Court for Corruption and Misconduct Cases.
"Because what they filed [against him] was an inappropriate charge," the head of Hall's legal team, Nakhon Chompuchat, said Tuesday.
At the same time, another lawyer will go to the Phra Khanong Provincial Court to file charges against four Natural Fruit executives and lawyers for filing a false complaint.
Hall became a poster child for the use of defamation, a criminal offense in Thailand, in a series of lawsuits stemming from a 2013 report published by a Finnish civic organization about Natural Fruit's mistreatment of its migrant workers. Hall's field research was included in the report. The company – Thailand's biggest pineapple producer – responded by targeting him with lawsuits.
He later spoke to Al Jazeera in the Myanmar interview about Natural Fruit's case against him. Those comments were the basis for the company to file yet another defamation charge against him.
When Hall was indicted in May 2014, his passport was confiscated, and he was obliged to seek court permission to travel abroad.
The Supreme Court dismissed the case Nov. 3.
Speaking from Belgium, 37-year-old Hall said he was launching the suit not only to defend himself from unlawful prosecution but also to ensure accountability for victims of other unlawful prosecutions.
"I was encouraged to initiate these lawsuits by migrant workers whom I continue to support in Thailand," he said. "After my criminal conviction, many workers and rights defenders in Thailand and even globally told me they hesitate to voice concerns on exploitation or report fully on abuses due to fear of negative repercussions."
Natural Fruit had not responded to requests for comment as of Tuesday evening.
A few days after the Supreme Court dismissed his case, Hall left Thailand, where he had lived for 11 years, to return to Europe, citing judicial harassment.
He's still trying to appeal a September verdict convicting him for defamation in a separate criminal and online defamation case. In that case – also filed by Natural Fruit – he was fined 150,000 baht and given a three-year suspended jail sentence by the Criminal Court.
Apart from the ongoing conflict with the pineapple packer, Hall was beset by fresh litigation filed late last year by a chicken farm. He cited this as one of his reasons for leaving Thailand.
The criminal and online defamation charges were brought against Hall in November by Thammakaset Farm – which supplies poultry to agricultural conglomerate Betagro sold overseas – over an alleged case of migrant worker abuses at a chicken farm in Lopburi province.
Hall's announcement pointed out that the complaints will be filed on the same day Thailand is expected to launch a U.N.-supported plan promoting legal principles which balance human rights with the private sector through independent courts.
Related stories:
Online Defamation Defendants Wait on Court Action
50,000 Defamation Suits May Be Dropped Wednesday
Worker Advocate Hall Quits Thailand Over Harassment, Threats
Supreme Court Dismisses Defamation Case Against Labor Activist Hall
Labor Activist Hall Found Guilty of Defaming Fruit Company
Rights Activist Andy Hall to be Tried for Defamation