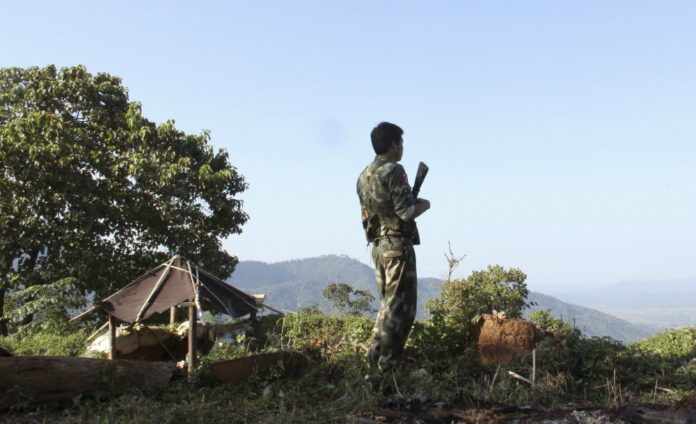 YANGON — Police in northern Myanmar said Tuesday that they are investigating the deaths of three ethnic Kachin men whose bodies were found in a shallow grave after locals said they were detained by government soldiers.
The three were among a group of five people detained by the army in Kachin state on May 25 as they were on their way back to their refugee camp after collecting firewood near Hka Pra Yang village, camp manager Naw Mai said. Two of the men were released and returned to the camp, while the others never returned, Naw Mai said.
A group from the camp, which is home to hundreds of the more than 100,000 who have fled fighting between government troops and rebels in the region, went Sunday to the place where the men were last seen and found their bodies in a freshly dug grave, Naw Mai said. Their bodies had gunshot wounds, knife marks and severe bruising, he said.
"We believe that these men were severely tortured," Naw Mai said. "Now this incident is scaring every displaced person from moving around the area."
Calls to military spokesmen went unanswered Tuesday. Myo Thura Naung, a Kachin State police officer, confirmed that the bodies had been found but said it was too early to determine how the men died and who was responsible.
"This is just the beginning of our investigation and it's too early to say anything clearly," he said.
Rights groups have for decades accused Myanmar's armed forces of abusing and killing civilians during the military's long-running conflicts with ethnic armed groups. Such abuses were often cited as part of the justification for international sanctions on the country's former ruling junta.
The accusations have continued even as most sanctions have been lifted and Myanmar has transitioned to a more open and more democratic system with a partly civilian government led by Aung San Suu Kyi, who has no control over the army.
The incidents came as Suu Kyi and the military were wrapping up peace talks with more than a dozen ethnic armed groups in a bid to end the conflicts. The talks, which are complicated by ongoing military offensives in Kachin and Shan states, ended Monday without an agreement.
Last year, the military made a rare admission that its soldiers had killed five ethnic Shan villagers and seven solider were eventually sentenced to five years in prison. Locals were outraged by what they said was the leniency of the prison term.
The military has also been accused of abuses against the country's Muslim Rohingya minority in western Rakhine state, which has drawn worldwide condemnation.