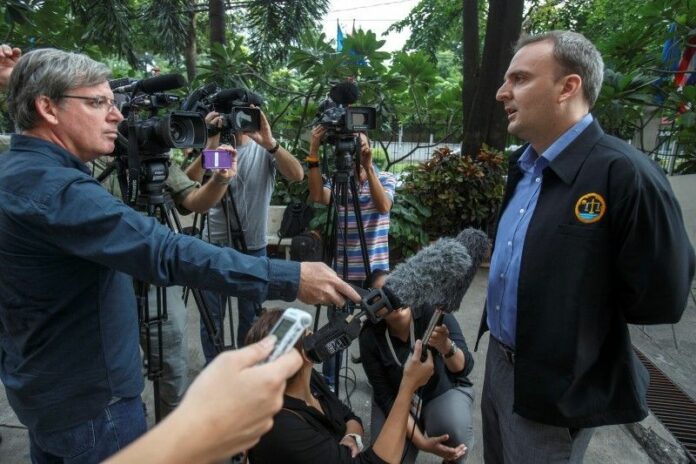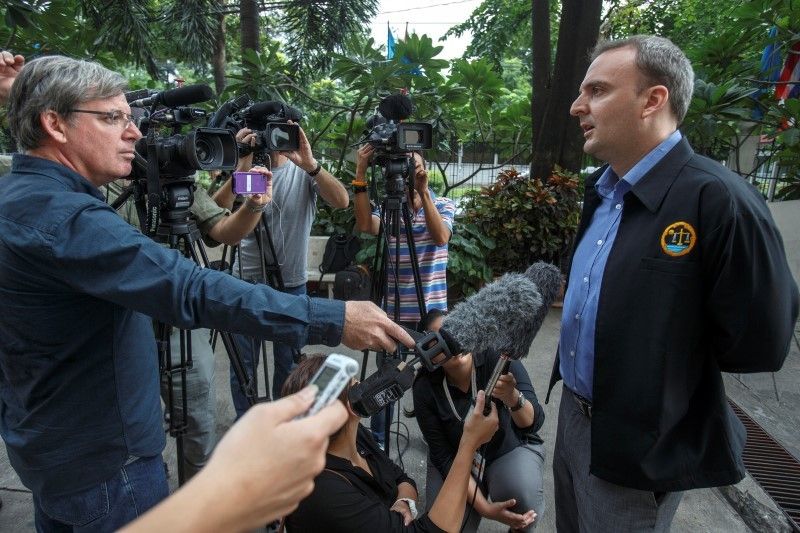 BANGKOK — The lead author of the revised Computer Crime Act and a public prosecutor said Tuesday that the law can no longer be used as a tool for defamation lawsuits, and all those filed under it must be dismissed.
In a change that would have far-reaching implications, about 50,000 defamation cases filed under the original 2007 Computer Crime Act will be dismissed when its updated version comes into effect Wednesday, as officials said it can no longer be used for prosecuting defamation.
In the decade since it was introduced, the swelling number of cases of online defamation filed under Article 14(1) of the law have been criticized as an abusive misapplication of what was supposed to be an anti-cyber scam law to suppress expression and silence criticism.
The article made criminal "importing into a computer system forged computer data, partially or entirely, or false computer data in a manner that is likely to cause damage to an individual or the public."
For its vague wording, it was often used against journalists, critics, activist and human rights defenders, as it prescribed harsher punishment than defamation under the Penal Code.
The Internet Law Reform Dialogue, or iLaw, says it's been used arbitrarily against activists, whistleblowers and journalists in at least 43 cases to date.
The change would affect cases such as the conviction last year of British labor rights advocate Andy Hall, who quit the country last year under a cloud of further prosecution.
Causing damage to an "individual" was excised from the new version of Article 14(1) published Jan. 24 in the Royal Gazette. It also explicitly states that the law cannot be used to prosecute what is already addressed in the Penal Code as defamation.
Read: Computer Crime Act 2.0 Passes Unanimously
A lawyer specialized in cyber law who helped rewrite the law said the changes would restore the article to its original purpose: combating phishing and scamming.
It will remain usable for offenses of importing forged, false or distorted computer information deemed damaging to the public at large.
"But all cases that misused the Computer Crime Act to sue for defamation must be dismissed," said attorney Paiboon Amonpinyokeat at a Tuesday public hearing on related regulations.
For the mechanism that would benefit nearly 50,000 cases, public prosecutor Khomkhanae Hongthananan said prosecutors must drop cases not yet submitted.
For those cases that are presently being tried, prosecutors can file a motion to withdraw the charge. If the prosecutor does not do so, Khomkhanae said defendants can move to have the count vacated or wait for the court to automatically rule them not guilty.
Arthit Suriyawongkul of the Thai Netizen Network said at the hearing that state prosecutors should take responsibility instead of putting the burden on the defendants.
Article 14 of the new bill retains the authority to punish those found guilty of importing false information that can cause harm to national security – and pornograhy. It also punishes importing any kind of information deemed illegal under the Penal Code concerning national security and terrorism.
That's unlikely to change its use in prosecuting alleged royal defamation, which is regarded as a matter of national security.
The revised law is still criticized for measures pushing service providers to self-censor content on their platforms.
As the hearing was underway, telecommunications regulators met with the Asia Internet Coalition to ask for more cooperation making content deemed illegal under Thai law inaccessible.
The coalition includes social media giants such as Facebook, Google, Twitter, Line and Yahoo.
Top regulatory executive Takorn Tantasith, who previously threatened to prosecute Facebook for not removing illegal content despite not having obtained valid court orders supporting the request, said he explained to the coalition today Thailand never had any intention of shutting down Facebook and only sought to have the offending items censored for users in Thailand.
Correction: An earlier version of this story said Facebook was threatened with legal action despite the government's possession of valid court orders. The word "not" was omitted from the sentence.