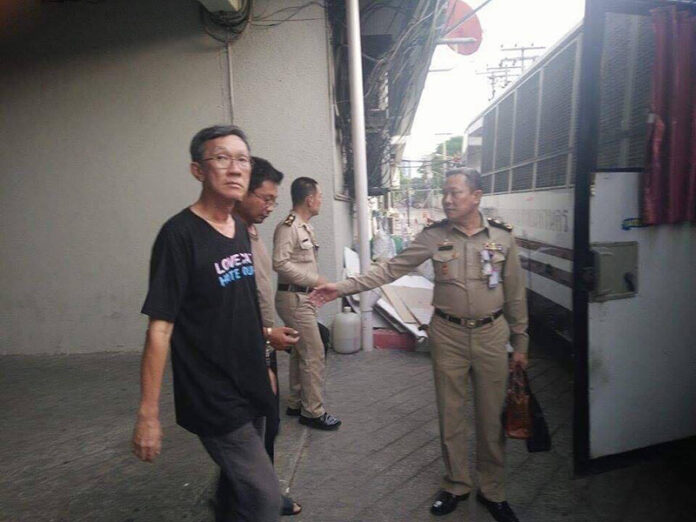 BANGKOK — Six people were charged with insulting the monarchy and violating the Computer Crime Act on Wednesday in what is believed to be the most lese majeste charges filed in a single day.
The only suspect identified among the six was lawyer Prawet Prapanukul, 57, a lawyer who once defended lese majeste suspect convict Darunee Charnchoengsilpakul. Darunee, a Redshirt activist known as Da Torpedo, was convicted and served eight years in prison for insulting the monarchy.
Prawet faces 10 counts of lese majeste for things written on Facebook, according to Thai Lawyers for Human Rights. He was arrested at about 6am on Monday by 10 soldiers at his residence and taken to the 11th Army Circle, according to activist Ekachai Hongkangwan, who said he briefly visited Prawet on Tuesday before he was taken to the criminal court to hear the charges.
Read: Govt Bans 'Any Online Communication' With Three Monarchy Critics
Prawet and the other five were remanded into custody for 12 days. The five were reportedly accused of sharing Facebook posts about the missing 1932 Revolution Plaque written by Somsak Jeamteerasakul, a dissident exile in Paris the government declared persona non grata online last month.
A source who asked not to be identified due to sensitivity of the issue said one of the five is an academic from Kasetsart University.
All face charges of violating the Computer Crime Act and lese majeste law, while Prawet faces an additional charge of sedition, according to Thai Lawyers for Human Rights.
Prawet is a staunch critic of the lese majeste law and the monarchy. In one of his last Facebook posts from Friday, a day before he was secretly arrested by soldiers, Prawet urged people to think critically about the institution without breaking the law.
"There are limits to the lese majeste law. We avoid its strengths but can attack its weaknesses," he wrote. "We should not be too fearful of the lese majeste law nor fear uttering things that are not within the bounds of the law."
Since seizing power in 2014, the military government of Prayuth Chan-ocha has treated suspected defamation of the royal family as a matter of national security and made prosecution of offenses a priority.
Ekachai said Prawet was refusing to answer questions and insisted he would only give statements to the court.
If found guilty on all 10 counts of lese majeste, Prawet faces maximum jail time of 150 years.
Prawet was taken to court Tuesday after Human Rights Watch issued a statement of concern about his disappearance. National Human Rights Commissioner Angkhana Neelapaijit, whose area is civil and political rights, also wrote Tuesday to urge the military to inform families and relatives of those arrested that they have been taken.