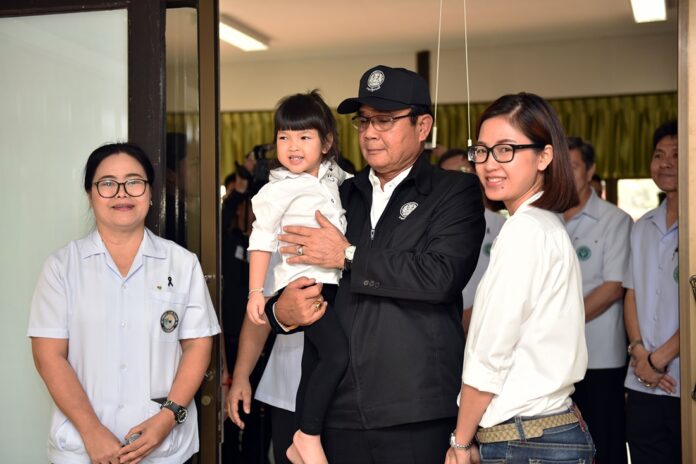 BANGKOK — A parody poll on Facebook about junta chairman Prayuth Chan-ocha prompted police to charge a transparency activist Sunday with violating the Computer Crime Act.
Veera Somkwamkid, a former leader of the Yellowshirt movement and vocal critic of the military regime, said he will turn himself in on Wednesday over the poll, which asked users to choose which was true: seven rosy promises from a song written by Prayuth or "none of the above."
"I'm announcing this publicly: The police don't need to waste their time finding me. I will meet with [investigators] on Wednesday," Veera wrote on his Facebook, hours after police officers raided his home to look for him.
Veera said he's willing to contest the charge in a court of law, but added that he feared security forces may abduct him before meeting with police and put him in a military prison where he might die in custody.
"I may die of a blood infection," Veera wrote, referencing an infamous explanation given for one death in military custody in 2015. "Are we clear? A man like Veera Somkwamkid never runs away from the law. I'm ready to contest my case. But I'm not ready to be murdered."
Police said Veera is wanted for a March 4 Facebook post in which he asked his online followers to voice their opinion on Gen. Prayuth "out of their sincere hearts." He said he was mocking the usual stream of opinion polls which routinely ranked Prayuth as the most popular leader in recent times.
The options given were snippets from "Returning Happiness to the People," a song credited to Prayuth days after he staged the May 22, 2014, coup d'etat. They included phrases such as "just give us a little more time" and "we will act sincerely." In the comments, most people chose No. 8, which was "none of the above."
"No. 8. It's the answer to every promise that they have never kept," Plu Proud wrote in reply to Veera's thread.
Olan Sukkasem of the Technology Crime Police, the police unit prosecuting Veera, said it's clear his intention was to defame the government, which is illegal.
"You read it, and you can see his intention," Col. Olan said.
Veera was one of the leaders of the Yellowshirt movement that opposed allies of former PM Thaksin Shinawatra, whom they viewed as corrupt. While most of his compatriots supported the May 2014 coup that deposed a pro-Thaksin government, Veera continued to call out the junta for allegations of nepotism and corruption.
In a post Sunday, Veera also questioned why police asked the court to issue an arrest warrant right away, instead of summoning him for questioning first.
But Olan said police can bypass the summons warrant for serious offenses, like violating the Computer Crime Act, as in Veera's case.
Veera is the latest person to face legal action for criticizing, or simply mocking, the junta chairman on social media.
The arrest warrant for Veera came just days after a pro-Thaksin politico was also charged with the same crime for bashing Prayuth on Twitter. Col. Olan said the suspect, former MP That Wanparuehat, indicated that he would turn himself in next Monday.
Last year a man was arrested for sharing a song on Line that mocked the junta leader, and a group of Facebook page admins were taken from their homes by the military for running pages lampooning the general-cum-prime minister.
Related stories:
Man Arrested for Sharing Video Mocking Prayuth
Prayuth Defends Abducting 'Facebook Eight'