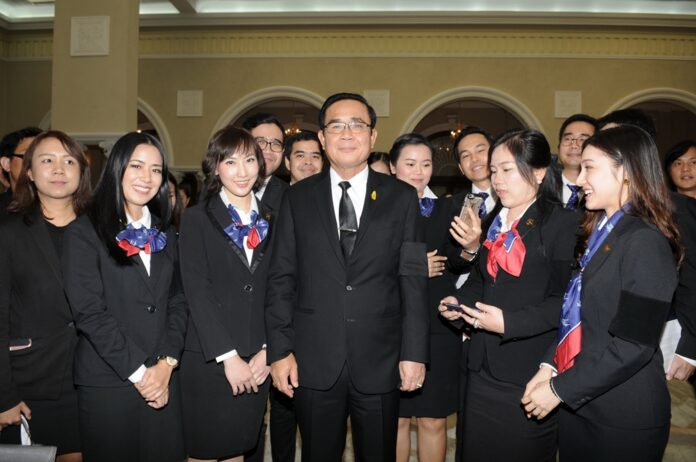 BANGKOK — A former politician is wanted by police for allegedly defaming junta chairman Prayuth Chan-ocha on Twitter.
For a series of tweets bashing the general, That Wanparuehat is charged with violating the Computer Crime Act, a draconian law that bans any "false information" or defamatory remarks from the internet – or any computer. The officer in charge of the case said the public should take note and exercise caution on social media.
"Criticism based on good-faith intentions is allowed, of course," Col. Olan Sukkasem said by telephone. "No one will forbid you. The constitution also has a provision that guarantees liberty. The government also doesn't forbid you. But you must do it within the legal framework."
Remarks that are inflammatory or untrue are forbidden, the officer said.
"Making false accusations or using denigrating language is not criticism. It's not expression of opinion under the law," Olan said.
That, who served as a member of the parliament and a senior ministerial official under the former government, is wanted for anti-Prayuth tweets under his handle @Unlimitedheart. His arrest warrant was approved Tuesday.
His Twitter account was made private as of Wednesday, but screenshots circulating online show remarks such as "Prayuth, you have trampled over the hearts of Thai people. One day you will die like a street dog. I'm waiting to see that day. You bastard. #Article44"
In another tweet, That said Prayuth was responsible for the suicide of a man who hanged himself to protest the use of Article 44 at Wat Dhammakaya two weeks ago.
It's not the first time That has a run-in with law enforcement. He was fined 500 baht in January for giving what the court described as a "hostile glare" at prosecutors who are pursuing charges of negligence against former PM Yingluck Shinawatra.
Col. Olan said That has yet to contact police to turn himself, but he believes officers will apprehend him before the day's end.
That is the latest person to be prosecuted for attacking Prayuth. Last January a man was arrested for sharing a video mocking the junta chairman on Line chat application. Four months later, soldiers abducted eight people from their homes for allegedly managing a Facebook page that lampooned Prayuth.
Related stories:
Man Arrested for Sharing Video Mocking Prayuth