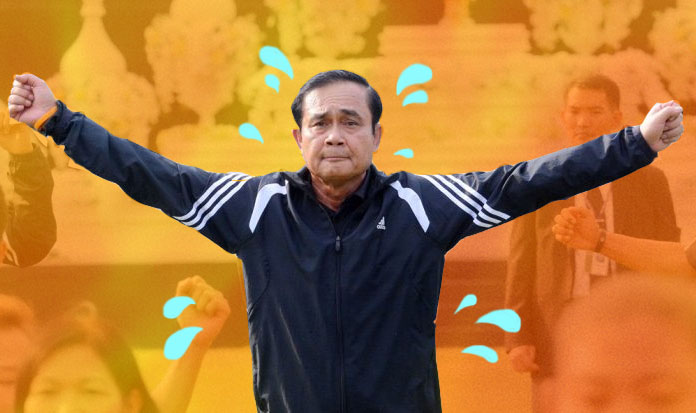 BANGKOK — Drop the dumbbells and takraw balls, as Gen. Prayuth Chan-ocha canceled Workout Wednesday this Wednesday for his civil servants at Government House.
For the first time since he ordered mandatory, weekly fitness sessions for government employees four months ago, Prayuth explained he was calling it off due to the punishing summer sun.
"The weather is really hot today. It will be super hot during the afternoon, too, so we discussed whether we should exercise or not," Prayuth said. "To decrease risk, we've decided to postpone today's exercise session."
Read: Sunny and Searing: Yep, It's Officially Summer Again
Prayuth cited Bangkok highs today which could peak at 34C for foregoing his soccer and ping pong sessions. The rest of the week may see highs of up to 37C, despite a few scattered showers.
Workout Wednesdays from 3pm to 4:30pm were imposed on government officials by Prayuth's mandate in November. A 57-year-old district official died in January while exercising during the weekly workout.
Related stories:
Sunny and Searing: Yep, It's Officially Summer Again
District Official Dies Leading 'Workout Wednesday'
Criticism Prompts Gov't Rethink of Workout Wednesday