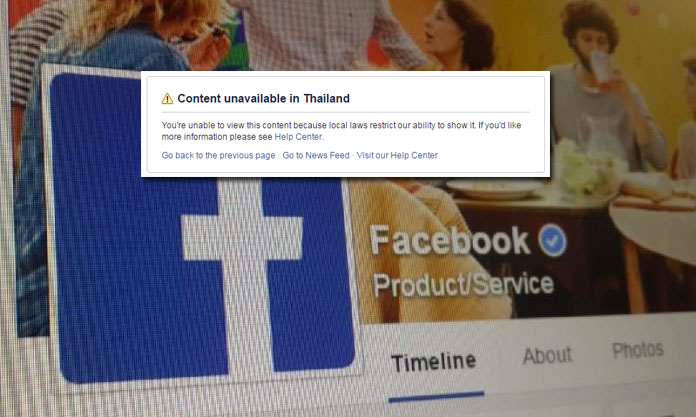 BANGKOK — After an ultimatum had passed Tuesday for Facebook to act on censorship demands, telecommunication regulators admitted that necessary court orders hadn't actually been obtained before threatening the social media giant with criminal action last week.
Top regulatory executive Takorn Tantasith said after meeting with the Thai Internet Service Provider Association, today that it had mistakenly assumed requests to censor 131 content items were already backed by proper court warrants when it threatened to charge the company under the Computer Crime Act and possibly block it entirely.
"There was no misunderstanding [by the association], it was just a communication error," Takorn of the National Broadcasting and Telecommunications Commission said a few hours after the deadline passed. "The ISPs got ahead of things by picking the links themselves from the ministry list."
Read: Facebook Stands by Policy as Govt Ultimatum Passes
Last week, when Facebook declined to censor 131 of the 309 pages requested, it was Takorn's commission, through the Thai Internet Service Provider Association, which demanded the California-based company comply with its demands by Monday morning or face legal action.
Takorn said Facebook responded by asking the association: Where are the warrants? By policy, Facebook blocks content from being accessed in places where it is deemed illegal, such as under Thailand's anti-royal defamation law, if a formal request is backed with a legal court order.
That's when the association realized there were no such warrants for the 131 pages.
Takorn said the association, which was acting as intermediary, delivered the deadline to Facebook and communicated that the government might press charges under the Computer Crime Act, a recently revised law used as a catch-all by the government for perceived virtual offenses.
With that straightened out, Takorn said the association now has obtained court warrants for 34 of the items, identified by URL, in hand. They sent them to Facebook's legal office in Thailand, which will translate and pass them along to its headquarters.
Takorn said he expected speedy action on Facebook's part to prevent people inside Thailand from seeing those items.
"ISPs said it took less than 24 hours to take it off last time they requested," he said.
The ministry is in the process of obtaining warrants for the remaining 97 URLs from the Criminal Court. He said there's no guarantee and asserted the judiciary's independence.
"It is up to the court to make the judgement," said Takorn. "They can approve just 10 of them. It depends on them."
Takorn said not all of the 131 URLs contained content deemed insulting to the monarchy, but also included illegal content such as pornograghy and scams. He said he could not give a breakdown of how many were in each category.
He insisted his commission did not threaten Facebook but only tried to do its duty as per the law.
Addressing speculation the government was building a case to pull the trigger on blocking Facebook in the kingdom, Takorn said his agency made no such proposal, as it has been cooperating with the authorities.
Related stories:
Facebook Stands by Policy as Govt Ultimatum Passes
Regime Threatens Facebook With Computer Crime Act