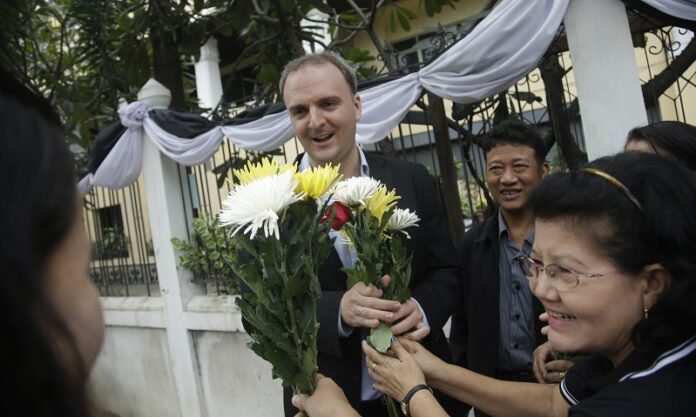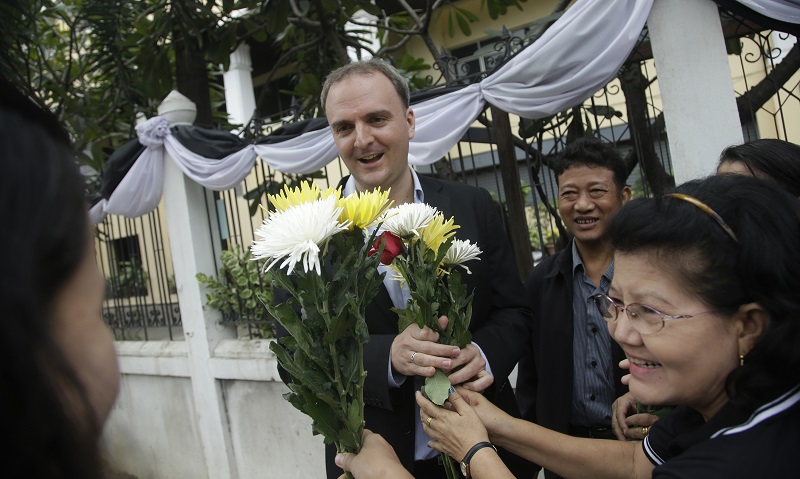 BANGKOK — A prominent migrant workers rights activist left Thailand on Monday, citing legal harassment and unspecified harassment relating to his work.
British activist Andy Hall, who has been defending himself against multiple criminal defamation suits, announced he left on a Paris-bound flight as the climate for human rights defenders in the country had deteriorated "with significantly increased risks and aggressiveness evident." He said he would return when conditions improved.
"Only if such a positive situation is developed can people like myself work genuinely and most productively, free from threats and intimidation, and without endless prosecutions that prevent our work from proceeding effectively," he wrote in a statement.
Reached for comment Monday, Hall replied that he had waited to depart until the Supreme Court issued its ruling Thursday upholding a lower court's ruling to throw out one defamation case brought against Hall by Natural Fruit Co. Ltd.
Read: Supreme Court Dismisses Defamation Case Against Labor Activist Hall
"I had to wait [for the] Supreme Court verdict as it's my legal obligation, then I am free to leave. Now is [the] earliest opportunity," Hall wrote via Facebook from Paris.
Hall, who worked in Thailand on migrant rights issues for 11 years, said he faced further threats and litigation stemming from his involvement in a case of alleged abuse of migrant workers at a chicken farm in Lopburi province. The Thammakaset farm supplies poultry to agricultural conglomerate Betagro for export.
Last month the farm's owners signaled they would launch their own lawsuits against Hall.
Hall said he was confident that leaving Thailand was the right decision for the group he advises, the Migrant Worker Rights Network.
In September, Hall was convicted, given a suspended prison sentence and fined 150,000 baht for violating the Computer Crime Act and defaming Natural Fruit for contributing research to a Finnish watchdog's 2013 report.
Hall's passport was confiscated and he was ordered not to leave the country without the court's permission.
On Thursday, the Supreme Court dismissed another defamation suit brought against Hall by the fruit company and attorney general's office for an interview he gave to Al Jazeera on the same topic.
In Thailand defamation is a criminal offense, and the laws have been criticized for their use in silencing whistleblowers and watchdogs.
Hall said his legal representation is authorized to act on his behalf in the ongoing cases.
Related stories:
Supreme Court Dismisses Defamation Case Against Labor Activist Hall
Labor Activist Hall Found Guilty of Defaming Fruit Company
Rights Activist Andy Hall to be Tried for Defamation