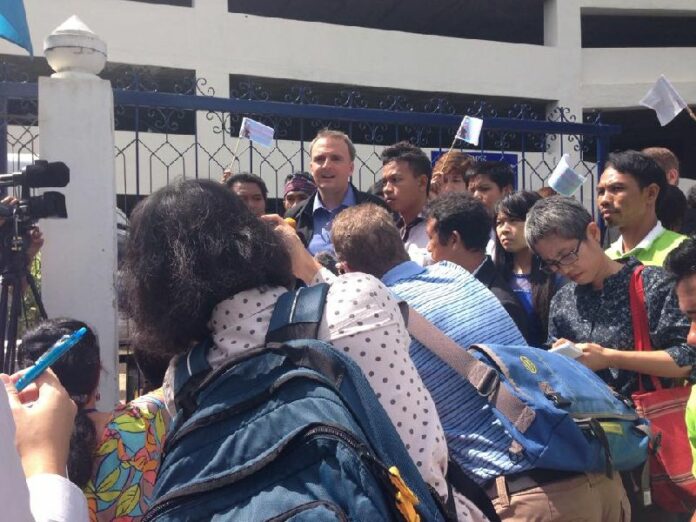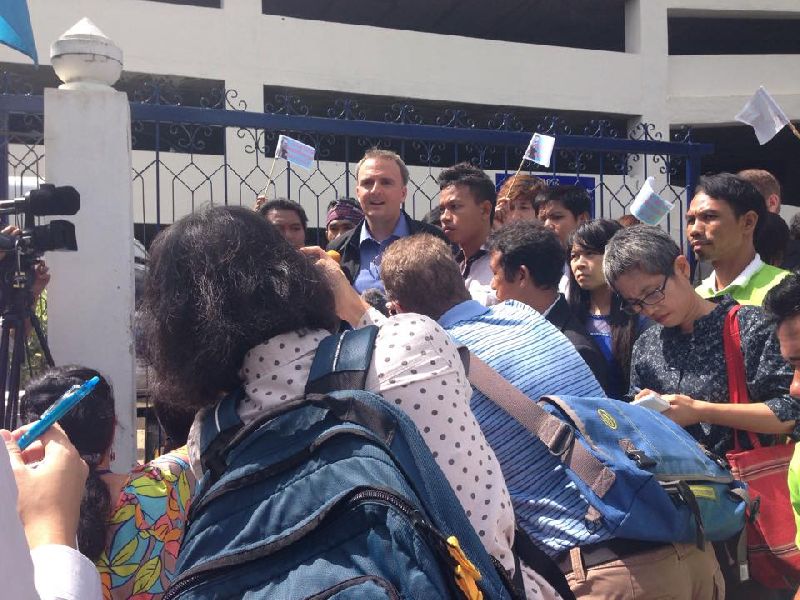 BANGKOK — A Thai court has dropped a criminal defamation case against a British human rights activist who reported on labour abuses committed by a Thai fruit processing company.
Natural Fruit Co. Ltd., one of Thailand's biggest pineapple processors, filed several cases against Andy Hall, 34, for reporting on the company's alleged abuse of its workers.
This morning, a court in Prakanong dismissed the defamation case concerning an interview Hall gave to Al-Jazeera about the company's alleged rights abuses.
The court dropped the case because the interview took place in Myanmar, not Thailand, and officials from Thailand's attorney-general's office were not involved in the investigation from the start as is required by law. According to the judges, this constituted a violation of section 120 of Thailand's criminal procedure code.
"I'm delighted at today's court ruling," Hall wrote on twitter after the court hearing. "It's real victory for migrant workers, labour rights, rule of law, freedom of expression in Thailand."
According to Reuters, a lawyer for Natural Fruit said the firm will appeal today's court decision.
Hall still faces charges of defamation and violating the Computer Crime Act in other cases filed by Natural Fruit for his contribution to a report by the Finnish NGO Finnwatch last January. The report chronicles a series of labour abuses described by Natural Fruit workers – some of whome were undocumented migrants – including hazardous working conditions, unlawfully low wages, and instances of child labour.
The trial for Hall's second defamation case is scheduled to begin on Thursday.
Defamation is a criminal offense in Thailand, defined under Thai law as any statement made by one party that is likely to impair the reputation of another party or expose the latter to hatred. The offense is punishable by up to two years in prison and a fine of 200,000 baht.
The law has been frequently criticised by rights activists, who say it is abused by authorities and large corporations to silence critics and create a climate of fear.
Earlier this year, two Phuket-based journalists were charged with defamation by the Royal Thai navy for a publishing an excerpt from a Reuters report that alleged Navy officials' involvement in the trafficking of Rohingya refugees from Myanmar.
In both Mr. Hall's case and the Phuketwan journalists' cases, the law has been used to target individuals and not the larger organisations their work is affiliated with. Instead of pursuing charges against Finnwatch, Natural Fruit Co. has targeted Mr. Hall alone. Similarly, the Thai navy has focused their efforts on prosecuting the journalists from Phuketwan, even though the report in question was authored by Reuters.
"Finnwatch demands Natural Fruit now drop all the charges against Andy Hall," Finnwatch's executive director Sonja Vartiala said after today's court hearing. "Instead of allowing companies to bring human rights activists to court, Thailand needs to prosecute companies like Natural Fruit, who are violating labour rights."