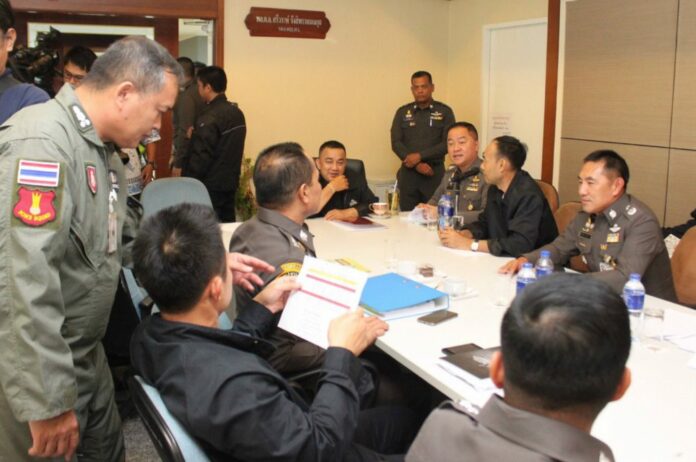 By Chayanit Itthipongmaetee and Todd Ruiz
BANGKOK — Senior police on Tuesday drew links between the bombing of a Bangkok hospital to coordinated bomb attacks in the capital in 2007 the junta of that time blamed on supporters of Thaksin Shinawatra despite evidence they were carried out by southern separatists.
Deputy police commissioner Srivara Ransibrahmanakul said Monday's bombing of Phramongkutklao Hospital, which injured at least 25 people, bore the same hallmarks of nine New Year's Eve attacks that hit Bangkok on the last day of 2006, which killed three people.
Col. Kamthorn Auicharoen, the head of Bangkok's bomb unit, said the three timer-controlled pipe bombs which have exploded since early April were built with the same materials — PVC pipes, capacitors, integrated circuit timers — as those a decade ago.
Police also found pieces of a green vase matching a green wall vase they believe was planted in the waiting room, which was seen in a photograph taken a few minutes before the blast, according to the deputy police commissioner Srivara Ransibrahmanakul.
The EOD chief said they found the timer bomb was set two to four hours prior to the explosion which happened at approximately 11am.
Police are also investigating a letter warning the hospital would be attacked that was sent to Phaya Thai district police on Friday, three days prior to the attack.
"It's a normal letter. A warning letter from a Good Samaritan, actually. We're investigating the letter's authenticity," said Maj. Gen. Sutee Nenkanthee.
Srivara chose his words carefully in connecting the bombing to those of a decade ago.
"But whether this time it was politically motivated like the 2007 bombings, I can't confirm yet," Srivara said Tuesday.
"Politically motivated" was how the New Year's Eve bombings were described at the time as the military regime insinuated the culpability of Thaksin supporters just weeks ousting him in a coup.
At the time, army commander-cum-Prime Minister Surayud Chulanont famously dismissed evidence the bombs were made by southern separatists, saying, "I don't think they would come here, as they could get lost in Bangkok."
Blame and Evidence Diverge
It's become routine since 2007 to ascribe similar attacks to Thaksin and the Redshirts through the use of coded language and thinly veiled accusations.
A Redshirt was arrested and later released following the April 2015 car bombing of a shopping mall on Koh Samui. Evidence later led investigators to southern separatists. When a terror attack killed 20 four months later at a Bangkok shrine, officials laid out a flimsy, circumstantial argument that Redshirts had made common cause with Chinese Uighurs and Turkish nationalists. A year later, when coordinated bomb and arson attacks ripped through seven southern provinces, Gen. Prayuth Chan-ocha immediately went on television to suggest it was the work of "bad people" opposed to the junta-backed constitution, an implication not lost on anyone.
Yet each time, suggestions the attacks were linked to Bangkok's internecine political conflict rather than southern separatist violence have sunk beneath waves of physical evidence – the bombs turn out to be the same – and the actual suspects arrested.
Fifteen pro-democracy activists, most in their 60s and 70s, were arrested a few days after Prayuth's comments on the eve of the Mother's Day attacks. A week later, an umbrella group of southern insurgents reportedly took responsibility for the attacks, and by this past February, eight of the 10 ultimate suspects in the attack – all from the southernmost provinces and some linked to the Samui bombing – had been arrested.
Related stories:
Police Seek Men Seen in Waiting Room Selfie Before Blast