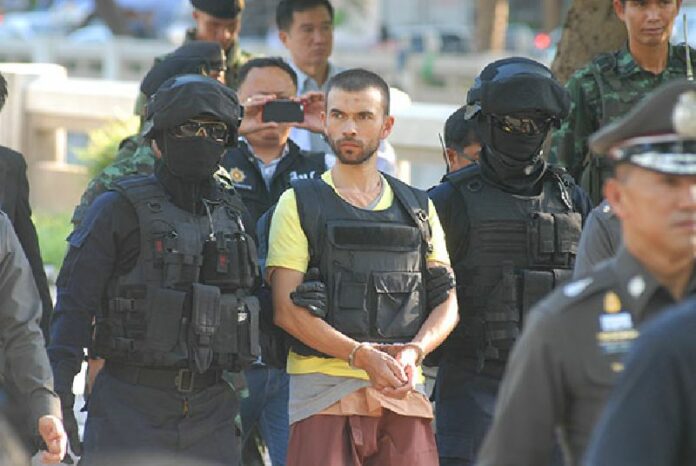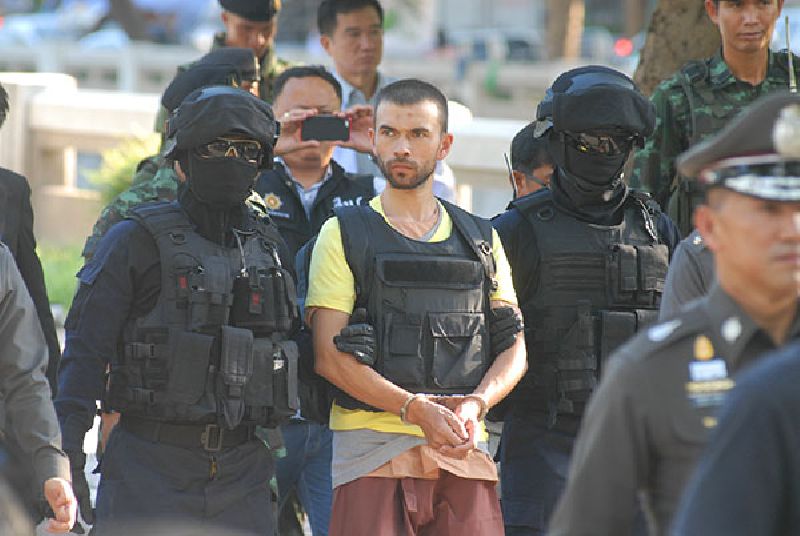 BANGKOK — Domestic and international politics motivated those who last month bombed one of Bangkok's landmark attractions, police said today as they laid out the attack's links to a Chinese ethnic group, separatists in Thailand's Deep South and a radical Redshirt bomb-maker.
Officials made a largely circumstantial case this afternoon against 17 people they believe were behind last month's bombing of the Erawan Shrine, an attack they said brought disparate groups of Chinese, Turkish and Thai nationals together in a common cause to carry out the worst attack of its type in Thai history.
"They shared the same objective. They shared the same benefits," police chief Somyot Pumpanmuang said this afternoon. "One may have used the other to carry out the attack."
Investigators said the two perpetrators, both Chinese Uighurs, were aided by a network of Turkish nationals as well as Yongyuth Pobkaew, a Thai man accused of building bombs for politically motivated attacks in 2010 and 2014.
Updated: Who's Who in the Bangkok Bombing Investigation
Six weeks on from the bombing police officials today seemed on the verge of calling the investigation a wrap as they pored over an organizational chart of the "network" behind the blast in a nationally televised address.
From the left, head metro police investigator Maj. Gen. Sombat Milintachinda, metro police chief Lt. Gen. Sriwarah Rangsipramnakul, deputy national police chief Gen. Chakthip Chaijinda, national police chief Gen. Somyot Pumpanmuang and national police spokesman Lt. Gen. Prawuth Thawornsiri took turns speaking to reporters at this afternoon's nationally televised event.
Frequently citing "luck" in bringing breaks to the case, top brass took turns recounting their efforts in bringing those responsible to justice but did not provide any "smoking gun" evidence.
After emergence of new CCTV footage led them to conclude late last week that a man already in custody was the shrine bomber, police said today that bomb fragments recovered after the attack were the same type found late last month in rooms used by suspects.
Ball bearings and metal pipes used in both the shrine bomb and another which exploded the next day near the Sathorn Pier matched items found in a room at the Poon Anan apartment in Bangkok's Nong Chock district, Police Lt. Gen. Sriwarah Rangsipramnakul said.
"And most importantly, a detonator we found at the Sathorn Pier," said Sriwarah, who commands Bangkok Metropolitan Police. "There was a one inch-long fragment left. We also found it at Poon Anan. Forensic police confirm it was the same type."
For the first time they identified a foreign national named "Zubair" as the man they believe dropped a bomb into water near the pier less than an hour after the shrine blast.
During the weekend, police led suspects Yusufu Mieraili and Mohammed Bilal, who have been in custody for several weeks, through "re-enactments" of the crime. They posit that Bilal planted the bomb in the shrine which was then detonated remotely by Mieraili from a nearby vantage point.
Sriwarah also said the home-made bombs "resembled" those used by insurgents in Thailand's violence plagued province of Narathiwat, where fighting between security forces and insurgents have reportedly claimed more than 6,000 lives since 2004.
Suspected Erawan Shrine bomber Mohammed Bilal sits on the bench inside Bangkok's Erawan Shrine where a man in a yellow shirt was seen leaving a backpack minutes before the 17 Aug. blast.
There was no incontrovertible evidence incriminating any of the suspects presented at today's event.
Asked what supported the belief Bilal and Mieraili carried out the attack, Gen. Somyot cited witnesses, CCTV footage, "accurate" re-enactments, confessions and "a special technique by high-tech equipment, which is classified."
Bilal's lawyer, Chuchart Khanpai said he was denied access to his client today. He's previously denied Bilal confessed to the crime and said he wasn't even in Thailand at the time of the attack.
As recently as one week ago police were still searching for the shrine bomber, with a deputy chief flying to Kuala Lumpur to chase rumors he'd been captured in Malaysia.
Shifting their attention back to Bilal on Friday after CCTV footage seemed to pick up the bomber's trail in Lumpini Park, officials said they needed more evidence to conclude Bilal was the man seen in the video. On Saturday, they staged the re-enactments.
Three Lumpini Police Station officers, including deputy commander Lt. Col. Apichart Thongchantee, were transferred to inactive posts yesterday for telling investigators earlier they had found nothing in the park's security footage.
Earlier this month, 18 officers from two police stations in eastern Bangkok were similarly transferred to inactive posts for claiming they found nothing suspicious after searching residences in their jurisdiction where the perpetrators are believed to have stayed.
Three people were killed when a home-made bomb exploded in October 2010 in an apartment building northwest of Bangkok in Nonthaburi's Bang Bua Thong district.
Min Buri Link
Bilal was arrested 29 Aug. when security forces raided the Poon Anan apartment building. A fake Turkish passport in his possession at the time identified him as Adem Karadag. Through his lawyer, he's said he is a naturalized Turkish citizen bornin Xinjiang, China, home of the Muslim majority Uighurs. Police immediately celebrated the arrest by giving themselves the 3 million-baht reward which had been offered.
Another set of raids at the Maimuna Garden Home in the Min Buri district turned up several rooms police said were used by the bombers. They said the rooms were secured for them by a Thai woman suspect named Wanna Suansan and her Turkish husband, Emrah Davutoglu.
Min Buri is also where a bomb exploded in 2014 during the height of anti-government street protests, killing two men transporting it by motorcycle.
Police said that bomb was partly made by Yongyuth Pobkaew, who was previously given a suspended, one-year sentence for a 2010 bombing which killed four people northwest of Bangkok in Nonthaburi province.
Thai authorities have alleged a radical cell of the Redshirt movement was behind both incidents.
Bangkok Shrine Bombing: Those Who Died
Police said Yongyuth purchased materials used for the Erawan Shrine bombing. A warrant for his arrest was issued on Friday but police said his whereabouts were unknown.
Police spokesman Lt. Gen. Prawuth Thawornsiri today insisted they are not making scapegoats out of anyone.
"Let me confirm that there is no scapegoat in this case," he said. "We are not hurrying to finish the investigation. We have complete evidence."
Speaking at today's televised press conference, police chief Somyot also told reporters that domestic Thai politics could not be ruled out as a motive.
"We cannot rule out politics," he said. "We are not falsely accusing anyone here. My words are based on evidence."
Authorities describe the attack as revenge by criminal elements angered by a crackdown on human trafficking earlier this year. Although they've strenuously avoided describing it as a terrorist attack, they have acknowledged anger over the forcible return of 109 Uighurs to China under pressure from Beijing as a factor for the attack.
Uighurs share strong bonds with Turkey, where nationalists stormed a Thai diplomatic outpost in July in response to the deportations.
Related stories:
Police Return to 'Karadag' as Bangkok Bomber
Bangkok Bombers Not in Malaysian Custody, Deputy Police Chief Rules
Bangkok Bombers Rumored to be in Malaysian Custody