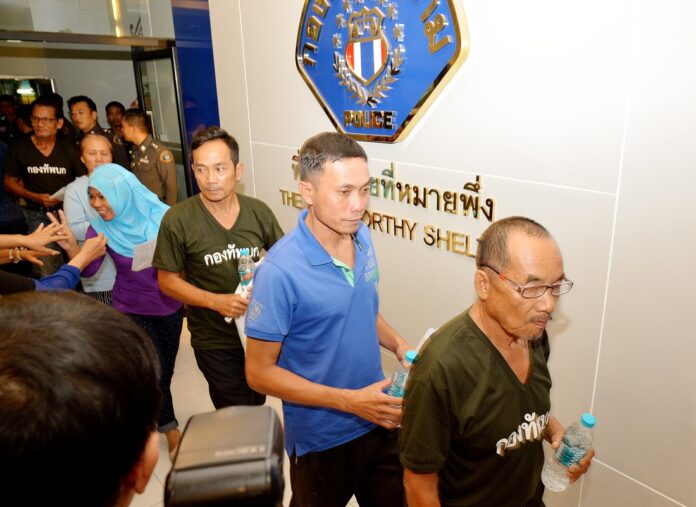 BANGKOK — Despite its previous statement to the media, the military now says 15 people under arrest for allegedly plotting insurrection against the state had nothing to do with the bomb attacks in the south last week.
Officials said they have solid cases against the suspects – all described by authorities as members of the Redshirt movement – though a Redshirt leader called the arrests  groundless "nonsense."
Military Reveals It's Held 17 Bombing Suspects Since Attacks
According to deputy junta chief Prawit Wongsuwan, the 15 suspects under custody attempted to "cause unrest" with their anti-government activities, but they had no connection with the fatal bombings of Aug. 11-12. He also said it's not possible that the military might have arrested wrong people.
"Let me ask you, if we arrest wrong guys, how could the court issue the arrest warrants?" Gen. Prawit told reporters Friday. "And let me stress that these warrants are not related to the incidents of bombings in the seven southern provinces."
A military court on Thursday issued arrest warrants for a total of 17 people, 15 of whom were already in military custody, while the other two had been previously detained and then released later.
In a statement released to all mainstream media agencies on the same day, the military accused the suspects of belonging to a newly formed clandestine group called Revolution for Democracy Party, a group linked to last week's bomb attacks.
Apart from Prawit, a police investigator also disputed that link at a Friday news conference.
Maj. Gen Chayapol Chatchaidet, commander of Bangkok police's Sixth Division, said all of the suspects were members of the militant group but they denied any relation with the recent bomb attacks.
"And evidence has not uncovered any connection so far either," Chayapol said.
The 15 suspects are held at the 11th Army District headquarters, a Bangkok army base converted into a military prison. Chayapol said attorneys from the Lawyer Council of Thailand have been appointed to represent them in military court.
Redshirts Slam Arrests
Jatupon Prompan, chairman of the Redshirts' umbrella organization, said the military's allegation is baseless.
"How could it be real? It isn't real, this Revolution for Democracy Party," Jatupon said in a livestream on his Facebook Friday. "It's just farcical nonsense."
He also questioned whether it's even possible that the suspects, who are mostly in their senior years, could have plotted such a militant operation.
"I ask you, in the reality, can it be possible?" Jatupon said. "I once sat down and talked with some army officers. They told me, some people had the idea of doing that. So, if they have an idea of going to Mars, is the military going to fight them?"
The 15 suspects currently held in military custody are:
Police Sen. Sgt. Maj. Sirirat Manorat, 71 of Phatthalung
2. Weerachut Chansa-art, 62 of Chanthaburi
3. Prapas Rojanapitak, 67 of Trang
4. Pramote Sanghan, 63 of Satun
5. Sorasak Ditpreecha, 49 of Bangkok
6.Meena Saengsri, 39 of Bangkok
7.Siritharoj Jinda, 56 of Nong Khai
8. Shinnaworn Thipnuan, 71 of Chiang Rai
9. Narong Phadungsaksri, 60 of Ang Thong
10. Sorawat Kurajinda, 60 of Maha Sarakham
11. Nueaphrai Senklang, 41 of Sakon Nakhon
12. Wichien Jiamsawas, 59 of Nakhon Sri Thammarat
13. Boonphob Wiengsamut, 61 of Chiang Rai
14. Rujira Saosomphob, 52 of Roi Et
15. Wiroj Yodcharoen, 67 of Nakhon Sri Thammarat
The two suspects said to be on the run are Police Sub. Lt. Wilaiwan Koonsawat, 54 of Nong Khai and Police Lt. Samai Koonsawat, 57 of Nong Khai.
Related stories:
Redshirts Reject Link to Bombings, Hit Back At Prayuth
Prayuth Links 'Bad People' Behind Bombs to Referendum, Calls For Patience
Top Police Investigator Scolds Officers, Suggests Military Arrested Wrong Guy