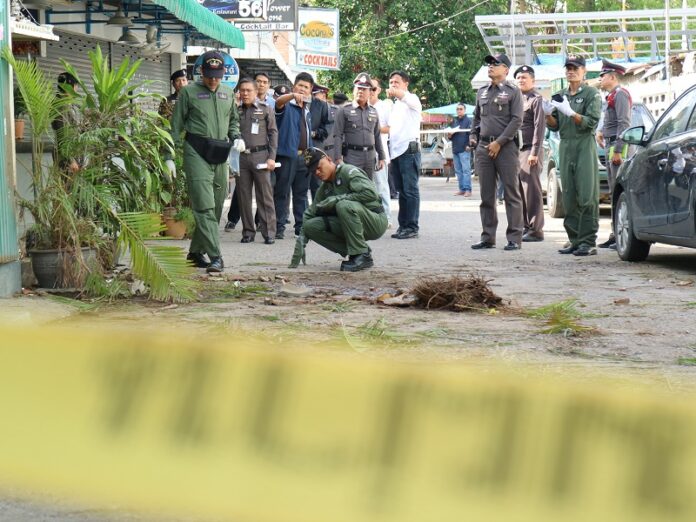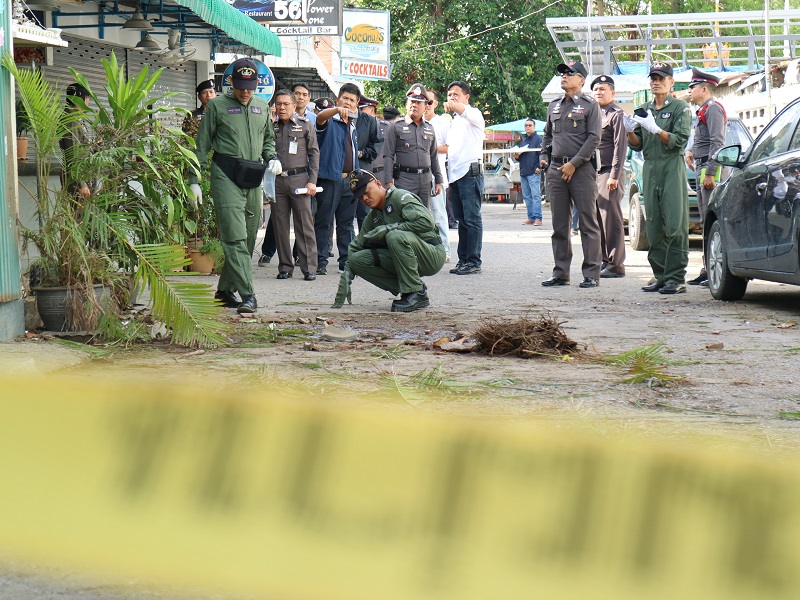 BANGKOK — The military Thursday announced it has been holding 17 suspects since almost immediately after last week's southern attacks and will hand them over to civilian police.
Junta spokesman Col. Winthai Suvaree said the military would hand over the suspects, most of whom were detained Saturday, to police on Friday after a military court today approved warrants for their arrest.
All but three of the suspects are over 50; nine are in their 60s and 70s, with an average age of 58. At least three were police officers were among those hailing from all corners of Thailand, including several Redshirt supporters. All 17 suspects have reportedly denied involvement in the attacks.
"There are credible leads," he said when asked about the certainty of their involvement in the wave of arson and bomb attacks that hit seven provinces and killed four at the outset of the Mother's Day holiday.
Junta lawyers went to the Crime Suppression Division at 8:30pm on Wednesday night to file charges against the suspects. All were charged with being part of a criminal conspiracy under Article 209 of Criminal Code.
They were also accused of violating the junta's ban on gatherings of more than five people for purposes deemed political.
Two of the 17 suspects, both police officers from of Nong Khai province, had earlier been released: Lt. Samai Koonsawat, 57, and Sub. Lt. Wilaiwan Koonsawat, 54.
Col. Burin Thongprapai, a junta legal official, told INN on Thursday that both men would be taken back into custody and detained along with the others at the 11th Army Circle base in Bangkok.
Since it took power, the junta empowered the military to detain people for questioning without legal representation or charge for seven days. Therefore, Burin said, the last day the could hold them would be Friday.
Rumors from unnamed sources circulated throughout Thai-language media Thursday that the suspects were members of a heretofore unknown political group called "Revolution for Democracy Party."
Those reports would dovetail nicely with the regime's insistence the attacks were unrelated to separatists in the Deep South, which is the consensus of security analysts.
The military's sudden admission it was holding many suspects underscored again the disconnect between the civilian face put on an investigation that is largely being carried out by the military.
Although they will be transferred to police custody Friday, the force seemed in the dark about them as well. Earlier this afternoon, national police chief Chakthip Chaijinda said he didn't know about the suspects detained by the military.
Chakthip said later Thursday evening police have not yet found anything linking the suspects to the attacks. He pointed out the only warrant issued in connection with the bombings remains one for Narathiwat resident Ahama Lengha.
Thai Lawyers for Human Rights said they will represent two of the suspects, Siritharoj Jinda, 56 of Nong Khai and Sorawat Kurajinda, 60 of Maha Sarakham. Both are Redshirt activists.
Among the 17 names is Prapas Rojanapitak, a political activist based in Trang province; Narong Phadungsaksri, a Redshirt from Ang Thong province; and Rujira Saosomphob, the wife of one member of the so-called "Khon Kaen model" of anti-junta conspirators.
Khon Kaen-based lawyer Korakoch Butsim said he is concerned about Rujira, who was among those detained Saturday. He fears she may face trumped up charges or be used as leverage against her husband, Meechai Muangmontri, the fugitive leader of an alleged armed resistance movement charged with terrorism in 2014. He fled to Laos after a military court granted him bail.
The lawyer said he's heard from sources in the military that Rujira has been crying since being taken into custody.
"She's just a housewife and doesn't understand politics. The day she was arrested [in Nong Khai province], she was only out collecting mushrooms," said Korakoch, who is part of a group of five rights lawyers in Khon Kaen.
Here's the complete list of the suspects held by the military:
1.Police Sen. Sgt. Maj. Sirirat Manorat, 71 of Phatthalung
2. Weerachut Chansa-art, 62 of Chanthaburi
3. Prapas Rojanapitak, 67 of Trang
4. Pramote Sanghan, 63 of Satun
5. Sorasak Ditpreecha, 49 of Bangkok
6.Meena Saengsri, 39 of Bangkok
7.Siritharoj Jinda, 56 of Nong Khai
8. Police Sub. Lt. Wilaiwan Koonsawat, 54 of Nong Khai
9. Shinnaworn Thipnuan, 71 of Chiang Rai
10. Narong Phadungsaksri, 60 of Ang Thong
11. Police Lt. Samai Koonsawat, 57 of Nong Khai
12. Sorawat Kurajinda, 60 of Maha Sarakham
13. Nueaphrai Senklang, 41.
14. Wichien Jiamsawas, 59 of Nakhon Sri Thammarat
15. Boonphob Wiengsamut, 61 of Chiang Rai
16. Rujira Saosomphob, 52 of Roi Et
17. Wiroj Yodcharoen, 67 of Nakhon Sri Thammarat
Additional reporting Pravit Rojanaphruk