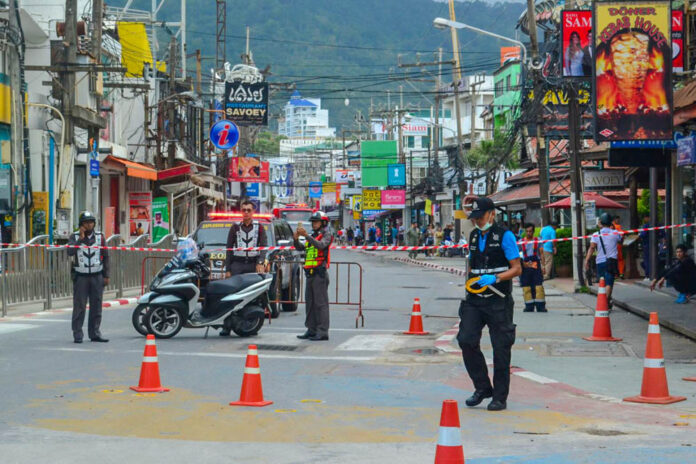 BANGKOK — Leaders of the anti-regime Redshirt movement Saturday flatly denied having anything to do with a series of bombs that killed four people and injured 35 in the west and south of Thailand and lashed out at the junta leader for making a "cheap" bid to frame them.
A day after authorities including Gen. Prayuth Chan-ocha hinted at their involvement in a wave of terror attacks that killed four and wounded dozens, several prominent Redshirts said it was irresponsible to do so.
Read: Children Mourn Moms Killed in Mother's Day Bombings
"There's no reason for us to do this. Why do you have to come up with such soap opera drama?" said Thida Thavornsaet Tojirakarn, a Redshirt co-leader and former chairwoman of umbrella organization United Front for Democracy Against Dictatorship.
She was responding directly to comments made Friday night, after bombs and fires ripped through seven provinces, by Prayuth on national television in which he blamed it on "bad people" who had been taking action prior to the Aug. 7 charter referendum.
Those comments came across as a less than subtle reference to the Redshirt movement which had opposed the junta-sponsored charter passed by the public on Aug. 7.
Thida said the regime would lose face if it pinned the attacks on foreign terrorists or even elements within the military unhappy about being left out of power. Instead, she said, the Redshirts were an easy scapegoat.
The provinces hit by the attacks were in reliably strong anti-Thaksin provinces which voted to endorse the charter. The previous Shinawatra-led government was swept out of office by street protests heavily supported by southerners, while the north and northeast of Thailand are Redshirt strongholds.
The targeted cities though are also neighbor to the Deep South provinces where a dozen years of armed struggle for independence has left thousands dead.
While the use of remotely detonated, improvised explosive devices Thursday and Friday is consistent with the tactics used by the southern separatists, they have rarely carried out attacks outside of the three provinces they wish to see secede from Bangkok's authority.
Soon after attacks happened Friday morning, authorities dismissed their involvement. Prayuth was quick to link the attacks to the referendum held five days earlier.
"I will let you consider why this has happened since before the referendum until now," he said Friday morning. "Why did it happen when the country is moving forward … who doesn't want this to happen in Thailand?"
Another Redshirt leader, Sombat Boonngam-anong, said that was "cheap."
Sombat said the junta refused to even entertain the idea that Thai-Malay Muslim separatists might have been behind the attacks. He compared Prayuth to an alcoholic who gets drunk and quarrels with someone only to unleash his anger.
"Prayuth knows that reds no longer have such capability…. Prayuth dares not point a finger toward the Deep South and say there's such a possibility. This is because he's afraid and can't deal with these people," Sombat said, in reference to Pattani, Narathiwat and Yala, where the Malay Muslim insurgency has burned for 12 years.
Sombat questioned why, if it was the work of Redshirts, they wouldn't have gone after leaders of the military junta instead.
Related stories:
Condemning Attacks, Amnesty Calls on Govt to Take the High Road
Prayuth Links 'Bad People' Behind Bombs to Referendum, Calls For Patience
Mother's Day Bombings: Authorities Move to Secure Targeted Cities
Mother's Day Attacks: Bombs Hit 5 Thai Provinces, Killing 4
One Killed, At Least 12 Injured in Hua Hin Explosions