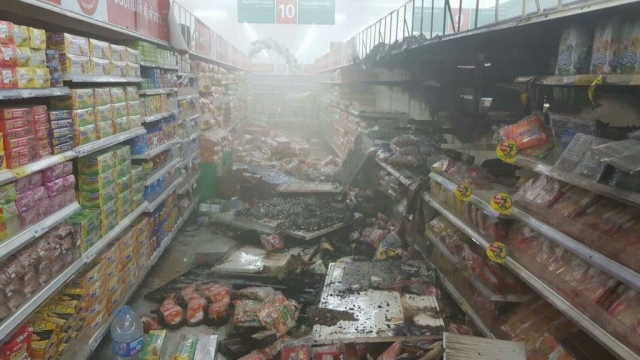 BANGKOK — A second man wanted for a 2015 car bomb attack on a Koh Samui shopping mall was named Friday as the fourth suspect in the spree of attacks last month across the southern region.
A military court approved a warrant for the arrest of Hakeem Dohloh, 32 of Pattani province, in connection to the fire bombing of a Tesco Lotus in Nakhon Si Thammarat province on Aug. 12. Charges of arson and possession of explosives were filed against him.
Hakeem, like previously announced suspect Asmeen Katemmahdi, had an outstanding warrant for the April 2015 explosion in the underground parking lot of Central Festival Samui. Authorities at the time speculated the incident might be an expansion of the separatist violence typically limited to the three southernmost provinces.
Police accuse Asmeen of a bomb attack in Hua Hin on Aug.11-12 that killed 2 people. The other two named suspects are Ruslan Baima, who was also accused of being behind the Hua Hin bombing; and Ahama Lengha, who is wanted in connection with attacks in Phuket which slightly injured one people.
Another warrant issued Friday was for Abdulkadir Saleah (transcribed from Thai), a 36-year-old from Pattani province who police said has a history in the insurgency. He was said to be linked to the Aug. 12 arson attack at Lee Mart supermarket in Trang province.
Despite mounting evidence pointing to a direct link between the attacks and the long-running violence in the Deep South, police authorities have been either denied any connection or said it is too soon to tell.
All five suspects are residents of the southern border provinces and remain at large.
The Tesco Lotus fire happened at 8am on Mother's Day was part of a series of attacks across seven southern provinces which killed four people and injured dozens. No one was injured and the fire was put out.
The day after the attack, the military pinned the blame on Chiang Mai native Sakarin Karuehat, dispatching soldiers to arrest him from an oil drilling platform in the Gulf of Thailand. He was later released without charge. Police attempts to have him re-arrested were rejected by the courts due to lack of evidence.
According to police, a witness saw Hakeem after the attack at the Nakhon Si Thammarat bus station, where he changed his clothes and boarded a bus bound to the south.
Chief police investigator Gen. Srivara Ransibrahmanakul said police have identified four people behind the Tesco Lotus attack. He said police are gathering evidence to seek warrants for the other three.
Srivara was on his way to another military court Friday afternoon to seek warrants for a suspect believed linked to the arson attack in Trang province. The name of the suspect has yet to be revealed.