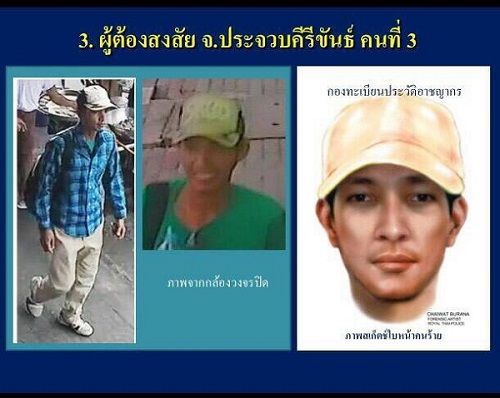 PHETCHABURI — A man already wanted for car bombing a mall last year was named Monday in the third arrest warrant linked to the bomb attacks which struck the southern region earlier this month.
A military court approved the warrant for 29-year-old Pattani resident Asmeen Katemmahdi  (transcribed from Thai) for the same charges of possessing explosives and attempted arson as Ruslan Baima, the second suspect named earlier. Both men are accused of being behind the four explosions in the resort town of Hua Hin on Aug. 11 and 12, which killed two people and injured dozens of others.
Asmeen is also suspected of being behind a car bomb that exploded in April 2015 in the underground parking lot of the Central Festival Samui shopping mall. An outstanding warrant exists for his arrest.
Read: Police Release Bombers' Sketches, Will Seek Warrants
At the time, authorities considered the possibility that the blast, which wounded seven people including tourists, might have been an expansion of the southern separatist movement.
Head police investigator Gen. Srivara Ransibrahmanakul on Monday said Asmeen is a trained insurgent with a background in committing such attacks.
Srivara still refused to say whether authorities think the recent attacks were linked to the insurgency because the separatists, he said, usually only carry out attacks in the border provinces where they are seeking independence.
Asmeen and Ruslan were among three men identified as suspects in the Hua Hin bombings in sketches released Wednesday by police. Srivara said police are trying to confirm the identity of the third suspect.
The first two suspects to be identified were Ruslan and Ahama Lengha, who is sought in connection with the explosions in Phuket. All remain at large.