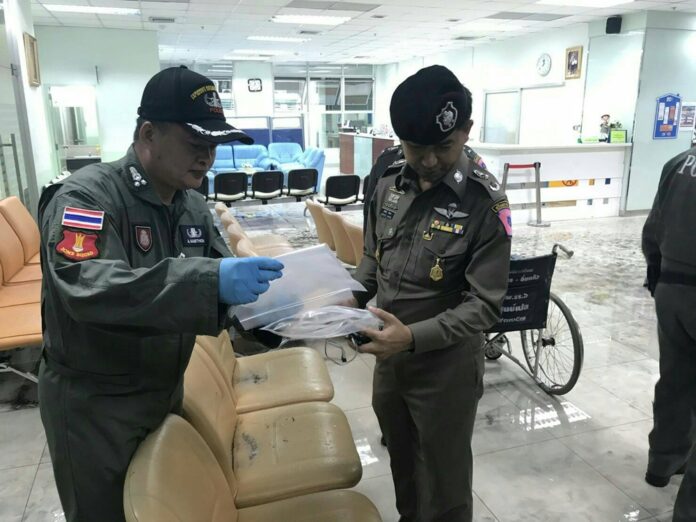 BANGKOK — A man was arrested Thursday on suspicion of carrying out a bomb attack at an army-owned hospital in Bangkok last month, according to the deputy junta chief.
No other details were made public. The man would be the first suspect arrested in connection with the bombing, which wounded at least 20 people on the third anniversary of the coup d'etat that brought the current junta to power. He reportedly confessed.
"Security officers have arrested the perpetrator who planted bomb at Phramongkutklao Hospital," Gen. Prawit Wongsuwan said. "At this point, we are speeding up the interrogation and extending the investigation."
Prawit said the man, who remains unidentified, had confessed to the crime.
According to Isra News, the suspect is a 62-year-old retired electrical engineer for a state agency. He was detained by soldiers at his residence in the northern district of Bang Khen, the same neighborhood where seven soldiers and five civilians were previously arrested for allegedly trying to mail a box of hand grenades through a delivery service.
Photos from the scene showed what appear to be bomb-making equipment including electrical wires, plastic pipes and nails. Soldiers also said they found a clock that bears the face of former premier Thaksin Shinawatra, the de facto leader of the Redshirt movement.
Media reports say the suspect is being questioned at the 11th Army Circle base, which has been converted to a special prison for national security cases.
Those claims could not be independently verified.
Police commissioner Chakthip Chaijinda is expected to make a statement later. His deputy, Srivara Ransibrahmanakul, said he's been told not to make any comment prior to the news conference.
"The commander has ordered me not to give interviews," Gen. Srivara, who's been appointed the head of the bombing investigation, told reporters. "You must ask the commander, but I can confirm there's been progress in the case."
The May 22 bombing in a waiting room at Phramongkutklao Hospital injured more than 20 people. Various rights groups condemned the attack. The hospital, though owned and operated by the army, also treats civilians.
The blast followed two smaller pipe bomb blasts in Bangkok's historic quarter. Four people were slightly wounded in the explosions, both of which occurred on Ratchadamnoen Avenue. While the government and opposition have traded blame, no group has claimed responsibility.
A week later an unclaimed parcel containing live hand grenades was discovered at a mail delivery center. Police soon arrested 12 people, including seven army personnel, on suspicion of attempting to smuggle the explosives through the mail.
These incidents have raised concern a new round of the violence and unrest plaguing the capital before the military staged a coup against the elected government on the grounds of restoring peace and order three years ago.