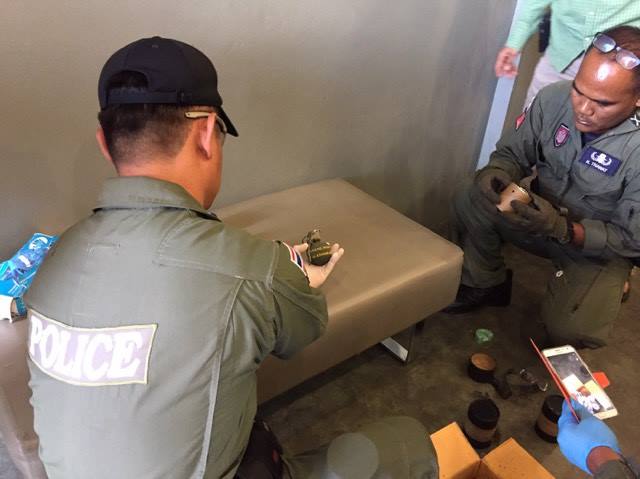 BANGKOK — Investigation of a weapons trafficking ring which has implicated more than a dozen military personnel has found at least 22 shipments sent by parcel, an army official announced Wednesday.
The shipments were sent to 22 locations in 15 provinces, Maj. Gen. Sutee Nenkanthee said. In many cases they were sent to members of the police or military.
Nineteen people – 12 army personnel and seven civilians – are being investigated for allegedly selling armaments online in an investigation following Friday's discovery of four hand grenades in an unclaimed parcel at a Bangkok delivery service.
Thanakorn Boonkan, a 28-year-old sergeant with the 1st Engineer Battalion King's Guard, is being held for questioning as the lead suspect in shipping the box of grenades shipped from Bangkok to Chonburi province. Another 18 people have also been detained for questioning about the weapons trade conducted via social media and online chat.
Thanakorn was seen in CCTV footage walking into the Kerry Express shop in the capital's Bang Khen district on June 1 to send a parcel using the identity of Itsarapong Prombutr, another army sergeant. The ID card number left to register the package actually belonged to Thanakorn, and police have said Itsarapong was uninvolved.
This past Friday, four M67 fragmentation grenades were found at a courier service Kerry Express in Bangkok's Bang Khen district after it was returned unclaimed from Chonburi province.
Despite tight gun laws, military-grade equipment are often sold on Thailand's black market. From time to time, members of the police and military are arrested and accused of selling weapons.
The ruling junta has denied any link between the case to another involving an air force officer busted Monday with an SUV packed with weapons. Police arrested Master Sgt. Phakin Dechpong near the border with Cambodia, where they believe he was headed, after his SUV crashed and they found more than 30 AK-47s, dozens of grenades and thousands of bullets in his possession.
Related stories:
Air Force Gunrunner Not Linked to Mail Order Grenades, Junta Says