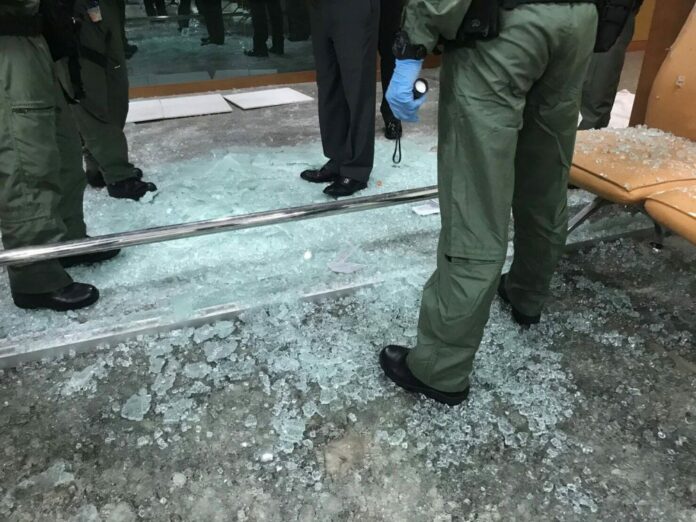 BANGKOK — Soldiers took a 51-year-old woman into custody on Saturday for her alleged connection to last week's bombing of an army-owned hospital, state media reported.
The unnamed woman was being questioned at an army base in Bangkok because security officers believe she was behind a set of letters that warned of bomb attacks at several state hospitals just three days prior to the May 22 blast. Police and junta spokesmen would not confirm the arrest.
"I have no details regarding this matter," junta spokesman Winthai Suvaree said by telephone. "The police are the ones responsible for the investigation."
Police spokesman Krissana Pattanacharoen also said he had no information about the alleged detention. He referred all inquiries to top bombing investigator Srivara Ransibrahmanakul. Calls to Lt. Gen. Srivara's cellphone went unanswered.
Dozens were wounded when a bomb went off May 22 at Phramongkutklao Hospital on the third anniversary of the coup that brought the current junta to power. No one claimed responsibility for the attack, but police said letters warning of similar incidents were sent to hospitals close to Phramongkutklao three days prior to the blast.
According to the government public relations department, the woman "reportedly sent 3 separate letters to the National Cancer Institute and Prasat Neurological Hospital warning of bomb attacks." It said the woman denied any involvement in the attack under questioning.
Citing sources in the military, several newspapers on Sunday said the woman was detained Saturday evening and taken to a special prison for national security cases at the 11th Army Circle base.
In the aftermath of the May 2014 military takeover, soldiers were authorized to detain civilians in military bases for up to seven days without charges for interrogation. Those held in army custody are not given access to legal assistance.
While declining to confirm the reports about the woman's arrest, junta spokesman Winthai said it's common procedure for soldiers to arrest people of interest at the request of the police.
"They coordinate with each other," Col. Winthai said.
The same reports also said police have questioned several staff members at Phramongkutklao Hospital about the attack, but police spokesman Krissana said that's a routine step in an investigation.
"Whoever might be related to the case, we interrogate them," Col. Krissana said. "This is normal practice."
Related stories:
Experts Dismiss Deep South Link to Hospital Bomb
Ko Tee Denies Bombing Hospital, Would Rather Bomb Govt House