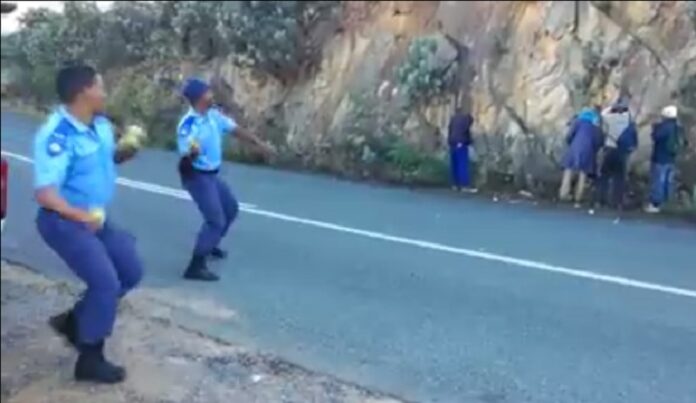 JOHANNESBURG — A recently released video shows South African police officers pelting suspected thieves with apples that had allegedly been stolen.
The video, which was posted on media websites and social media, shows a group of officers in blue uniforms grabbing apples out of the back of a vehicle and hurling them at four men who are lined up at a roadside cliff, their backs to the police. The suspected apple thieves flinch as they are hit and officers can be heard chuckling.
LAW ENFORCEMENT VILLIERSDORPThis is what these officers does when you are caught LATEST UPDATE ON APPLE ASSAULT:WHAT THESE OFFICERS DID WAS WRONG: BUT SUPPORTING or PROTECTING THE 'VICTIMS' (ALLEGED THIEVES) IS MORE WRONG!!!!==============>>> https://www.facebook.com/LocalsSA/posts/645683295641414Christelle Vosloo, Mayor of the Theewaterskloof Municipality, says she will meet with the victims to assure they get the necessary support.

โพสต์โดย News, Accidents, Robberies & Incidents บน 26 พฤษภาคม 2017
South African media reported this weekend that the incident happened in the Theewaterskloof area in Western Cape province. Reports say the local mayor condemned the incident and launched an investigation.
Story: Christopher Torchia