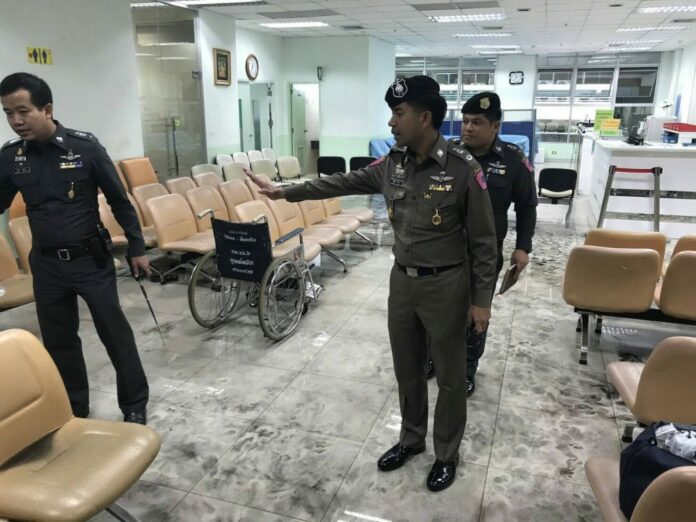 BANGKOK — A fugitive Redshirt activist said he was not responsible for bombing a public hospital as alleged by the army chief Thursday but boasted about organizing an armed resistance group.
Wutthipong "Ko Tee" Kochathammakun, a former radio talk show host wanted for a number of charges including royal defamation, said in an online interview the accusation was baseless because his group is not yet ready for action.
The activist-agitator countered that it was the army who staged Monday's attack at Phramongkutklao Hospital as a so-called false-flag operation in his comments to reporter-in-exile Jom Petchpradab.
Read: Experts Dismiss Deep South Link to Hospital Bomb
Twenty-one people were injured when a pipe-bomb exploded in a waiting room at the hospital, which is owned by the military but open to the public.
Going further, Wutthipong said his group has different plans for the junta when the time comes.
"They did it to their own people," he said in the interview posted to YouTube. "If we could do that, we wouldn't bomb a hospital. We would bomb their Government House and their homes."
Wutthipong, a firebrand who styles himself a "hardcore" Redshirt, was accused in March of amassing weapons at his family home in Pathum Thani province for what the authorities described as an plot to sow mayhem and assassinate junta leadership. Wutthipong denied the allegation.
His name was back in the news after army commander-in-chief Chalermchai Sitthisart echoed junta chairman Prayuth Chan-ocha's remarks that the bombing was linked to political opponents who "incite violence" from overseas.
Asked whether they included Wutthipong, the army chief said yes.
"Yes. He's been inciting on social media all the time," Gen. Chalermchai said. Chalermchai also said the government is working with Laos to extradite Wutthipong, though the activist said he left that country some time ago.
When reporter Jom asked Wutthipong whether it was true he was conspiring to build an armed movement as government officials say, Wutthipong objected to the term "conspiring" because he's doing it for real.
"Conspiring is what criminals do when they train each other. But we are training people's soldiers," he said. "We are going to drive the criminals out from Thailand. We are training in every way soldiers do. But we are superior to soldiers, because we have spirit."
Asked to elaborate, Wutthipong said the group, called "Armed Forces of the Federation," was only formed three months ago, so it was not yet ready to launch any operations.
Wutthipong is known for routinely making outrageous claims and overbearing threats, but those close to him express doubt about his executive capacity.
Police spokesman Krissana Pattanacharoen said police are investigating every lead Monday's bomb attack, including Wutthipong's alleged network, but they are not targeting anyone in particular.
"As the police commissioner said, whoever is related to it, we will take action, no matter who they are," Col. Krissana said Friday.