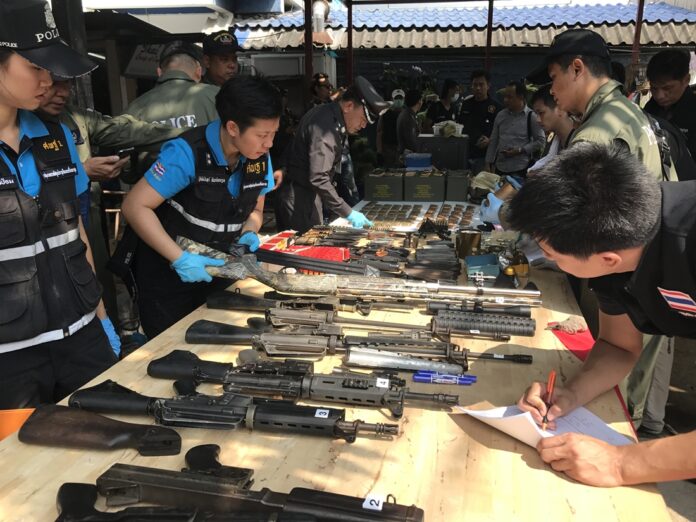 BANGKOK — Police said Wednesday that fugitive Redshirt activist Wutthipong Kochathammakun had many plans for the weapons he allegedly stockpiled at a house in northern Bangkok – including assassinating the prime minister.
Wutthipong, better known by his nom de guerre Ko Tee, has disputed owning the massive weapons cache at a family home in Pathum Thani and accused the military of planting the weapons to fabricate a cause for his extradition. And as usual in highly polarized Thailand, the news sharply divided the populace into those who believe the claim and those who don't.
In a telephone interview, a police spokesman insisted investigators have ample evidence implicating Ko Tee.
"We have intelligence reports," Col. Krissana Pattanacharoen said. "In early March, the clues were getting clearer, which led us to evidence and more intelligence reports, which resulted in the raid."
Read: Redshirt Fugitive Claims Junta Planted Guns in House
Krissana said Ko Tee and his network started stockpiling the weapons during a political crisis in early 2014. The spokesman said Ko Tee, believed to be residing in Laos, prepared the weapons so that his paramilitaries in Thailand would strike "whenever they saw an opportunity."
According to Krissana, Ko Tee's plans included sabotaging the military regime in 2014, launching attacks on the security forces recently besieging Wat Dhammakaya and even assassinating junta chairman Prayuth Chan-ocha.
"He has plans to do these things when he sees opportunity," Col. Krissana said.
Real or Fake?
As with other politically charged claims made in a country long divided by factional strife, there are those who buy the alleged plot and those who don't. Ko Tee himself laughed at the idea that three years after he fled the country, a sudden search would discover a huge arsenal in his family home.
Naturally, pro-junta news organizations such as T News and Manager have run a number of commentaries praising the authorities for foiling Redshirt plots while Redshirt sympathizers rule out the raid as a setup.
Several figures with personal experience with underground Redshirt groups say it's more complicated than that. They said that while it's impossible Ko Tee could have amassed hundreds of military-grade weapons himself, it wouldn't be surprising if some belonged to his associates in the underground movement.
A former reporter who has interviewed members of the underground Redshirt groups said it's difficult to verify the junta's claims.
"There is an endless amount of possibilities, starting from completely planted, over to sort of semi planted – in a sense, a double agent in his organization might have been responsible for storing weapons there and then told the military," he wrote in reply, asking that he not be named for fear of attention from the authorities.
A Redshirt exile familiar with the community of other exiles estimated that about "10 to 20 percent" of the weapons stored at Ko Tee's family home belonged to his associates, while the rest could have been planted there by the military to lend the appearance of a massive, armed menace.
The activist, who spoke on the condition of anonymity due to the sensitivity of the issue, said it's common and justifiable for some Redshirts to gather weapons for resistance, as many believe that "peaceful methods ended in April 2010," referring to the Redshirt street protests that ended with a brutal military crackdown nearly seven years ago.
Nonetheless, he believes Ko Tee was incapable of running the operation on his own as alleged by the authorities.
"I don't want to sound like I'm insulting him or anything like that, but he's a person with a different style," he said, adding that Ko Tee mostly spends his time talking and "boosting morale" on Redshirt radio channels rather than directly involved in any political activism.
Extradition in Progress
Ko Tee was previously wanted on charges of insulting the monarchy for remarks he made about the royal family, including in an interview he gave to Vice News in 2014.
Now he's also charged with a new array of offenses, including accumulation of military-grade weapons and conspiracy to commit crime.
The military said the weapons seized from Ko Tee's network in nine coordinated raids included assault rifles, grenade launchers, shotguns and more than 5,000 rounds of ammunition. Among the locations raided by the military was a three-building plot that belongs to Ko Tee's family in northern metro Bangkok.
Nine people with alleged links to Ko Tee are being detained and questioned by the military, spokesman Krissana said.
In response to the accusation it was running a false flag operation, the military on Tuesday released GoPro footage taken during the Sunday's raid on Ko Tee's family residence. The footage showed an in-law of Ko Tee initially denying there were any weapons in the house, but later admitting to housing them after soldiers insisted on searching.
The Redshirt exile interviewed for this story said they believed the authorities would definitely use the weapon cache at Ko Tee's family residence as grounds to seek his extradition and that of other Redshirt exiles.
"This time they have more weight that can be used in the effort more than any other time," the exiled activist said. "I think it shows that they're going to the endgame now. They want to go all the way this time."
Police spokesman Krissana confirmed extradition efforts were underway.
"Oh, we will definitely bring him back to Thailand," Krissana said.
Ed. Note: Some details of this story have been removed out of concern of possible criminal prosecution.
Related stories: 
Thai Authorities Seek Political Foes Taking Refuge in Laos