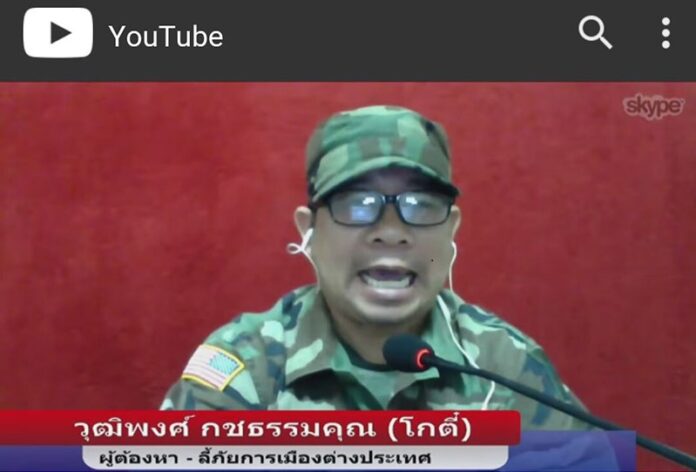 BANGKOK — A fugitive Redshirt exile claimed Monday that Thai authorities planted weapons in his Pathum Thani residence to get him extradited home because he has called for turning Thailand into a federal state.
In a 57-minute video interview with Los Angeles-based dissident journalist Jom Petchpradab, Wutthipong Kochathammakun, or Ko Tee, said he believes his host government – he did not name the country – would not buy into what he claimed were trumped up charges.
"It's a setup and an attempt to frame me, so they can hunt me down," said Wutthipong, wearing military fatigues and a U.S. flag patch on his arm in an appearance via Skype with Jom's "Thais Voice" program. The interview was posted to Facebook early Monday morning.
Read: Firearms, Explosives Seized From Redshirt Radio Host's Home
On Saturday, a group of police and soldiers raided a two-story belonging to Wutthipong in Pathum Thani's Lam Luk Ka district where they said weapons and explosives were discovered.
The former Redshirt radio host said he believes the authorities were provoked to take action because, two months ago, he and two comrades created an organization calling for Thailand to become a federal state rather than constitutional monarchy.
"This is the reason why they're trumping up charges and hunting me," Wutthipong said in the interview.
After Saturday's raid, the authorities said the stashed weapons were either part of a plan to assassinate leaders of the military government or defend the controversial Wat Dhammakaya, also in Pathum Thani.
Government spokesman Lt. Gen. Sansern Kaewkamnerd on Sunday denied there was any setup.
Wutthipong disappeared in 2014 after former Prime Minister Yingluck Shinawatra ordered his arrest on suspicion of defaming the monarchy in a media interview at the height of the "Bangkok Shutdown" street unrest. He's believed to be hiding in Laos or another neighboring country.
Wutthipong, who once claimed to be planning violent resistance to a military coup, denied owning any of the weapons or holding any such intentions in the Monday interview. He also said the residence did not belong to him.
He said only the state was capable of owning such a large quantity of heavy arms.
Extradition Discounted
Asked if the government where he is living in exile would extradite him in light of the weapons charges, Wutthipong said he thought it unlikely.
"I fled Thailand three years ago, how can I stash weapons in a house that has been under watch? I think the international community can differentiate and conclude that the military and police are retards." he said.
He sent a mixed message on their potential usefulness, however.
"If I had those many arms, changing the country wouldn't take this long. … I have no desire to amass those crazy weapons … we will bring about change peacefully," he said.
Deputy junta leader Gen. Prawit Wongsuwan said Monday the government is trying to coordinate with Vientiane to extradite Wutthipong.
"We have been following this group for a long time, and people who do not want to see violence notified us," Prawit said. "This led to matching intelligence."
Security forces on Sunday raided a container yard in Samut Prakan province said to be part of the group's weapons caches and plans for revolt. It turned up nothing, but nine people accused of being linked to Wutthipong were taken into custody during the weekend.
Wutthipong denied that his host nation's government is protecting him, saying he is only being aided by a friend who was born there.
"We move around all the time," Wutthipong said. "We don't announce where we are."
The one-time incendiary radio demagogue said he's not sought recognition as an exile or sought political asylum.
"Nobody can protect me. … We live according to whatever means we have. But if we don't rise up and fight, who will?
He also said he relied on donations from supporters and catches freshwater fish to get by.
"It's very inconvenient. I can't book a hotel. I have to ask locals to buy stuff at convenience stores or buy pre-paid phone cards," Wutthipong said.