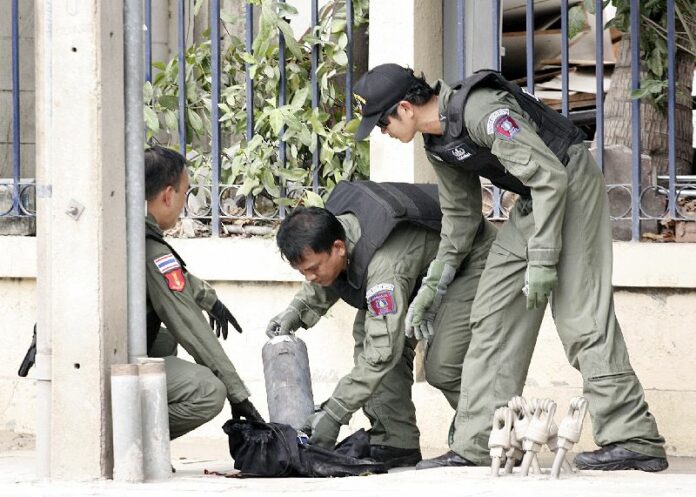 (18 March) A prominent Redshirt activist has admitted that he has been preparing an armed "underground" force to be mobilised in the event of a military coup.
An audio clip with the purported voice of Mr. Wuttipong Kochthammakul surfaced on the internet over the weekend. In the clip, Mr. Wuttipong could be heard discussing a plan to stage reprisal attacks against the military should the armed forces launch a coup against Prime Minister Yingluck Shinawatra.
Today Mr. Wuttipong, who is widely known by his nickname "Ko Tee", acknowledged in an interview with our correspondent that the audio clip was genuine, and explained that he had been inspired to organise his own underground movements due to unfair treatment by the establishments toward Ms. Yingluck.
"All the so-called independent agencies are mobbing Ms. Yingluck. They want to deny her even a country to live in," Mr. Wuttipong complained.
He also threatened to unleash these "rioter squads" if Ms. Yingluck is ever ousted from her caretaker position, but admitted that the underground force he has been preparing is still low on resources and manpower.
According to Mr. Wuttipong, some members have had to take loans from banks to help organise their local underground groups, and he estimated the total number of members at "several hundred".
Nevertheless, the Redshirts activist is adamant that his small group is willing to "fight for democracy" should the need ever arise.
"On the day Ms. Yingluck is removed from her position, my group will immediately begin our operation," Mr. Wuttipong warned, "Gunshots will ring throughout Bangkok. I want the establishment to think carefully before causing any further chaos".
The Royal Thai Army has previously urged the Thai police to prosecute Mr. Wuttipong for his alleged role in the spate of political violence against anti-government protesters in recent months.