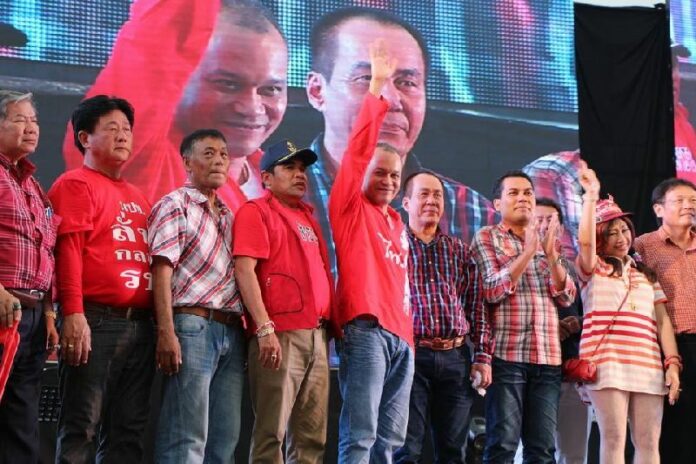 (19 March) The National Anti-Corruption Commission has launched an investigation into the claims that top governmental officials, including Prime Minister Yingluck Shinawatra, are advocating a secessionist agenda.
Citing power under the 1999 Prevention and Suppression of Corruption Act, Mr. Sansern Polchiak, secretary-general of the NACC, announced the inquiry yesterday.
According to Mr. Sansern, the NACC has received complaints that several Cabinet members such as Minister of Interior Affairs Jarupong Ruengsuwan and Deputy Minister of Commerce Nattawut Saikua have appeared on a rally stage alongside other Redshirts core activists in Nakhon Ratchasima province last month, where they allegedly called for "secessionist violence".
In the lengthy complaints received by the NACC, the activists have been accused of instigating violence, intimidating independent agencies and the court, campaigning for abolition of the 2007 Constitution, and calling for the Kingdom of Thailand to be separated into two entities.
The Thai Constitution bans any attempt of separatism.
As high-ranking officials, Mr. Jarupong and Mr. Nattawut might be guilty of negligence of their official duties which lead to grievous damage to the country due to their appearance on the stage, Mr. Sansern argued.
The investigation will also expand to include Ms. Yingluck, as the sec-gen of the NACC claimed that the Prime Minister deliberately refused to take any action against the Redshirts activists for their alleged separatist remarks.
"As a commander [of the government], Ms. Yingluck has the power to suppress and investigate the facts about these actions, but even when the media had reported about the criminal acts, Ms. Yingluck has not proceeded to launch any fact-finding committee," Mr. Sansern complained.
Furthermore, Mr. Sansern charged that Ms. Yingluck is also serving as the Minister of Defence, responsible for exercising powers to protect the stability and security of the Kingdom from all threats, either internal or external, yet the Prime Minister has refused to take action against the Redshirts activists who are allegedly causing damage to the country and the people.
"Therefore, her inaction amounts to negligence of her duty which would cause damage to the nation, or the people, or the Ministry of Defence," Mr. Sansern concluded.
The NACC's decision is certainly bound to have angered many supporters of Ms. Yingluck, who have already viewed "independent bodies", such as the NACC, collaborators with anti-government protesters in their conspiracy to overthrow the elected government.
Prominent Redshirts activists have also denied the allegation that their leadership is seeking to secede any part of Thailand.
Related Story:
Army Declares War On Non-Existing Separatists
PT Should Be Dissolved For Treason: Democrats