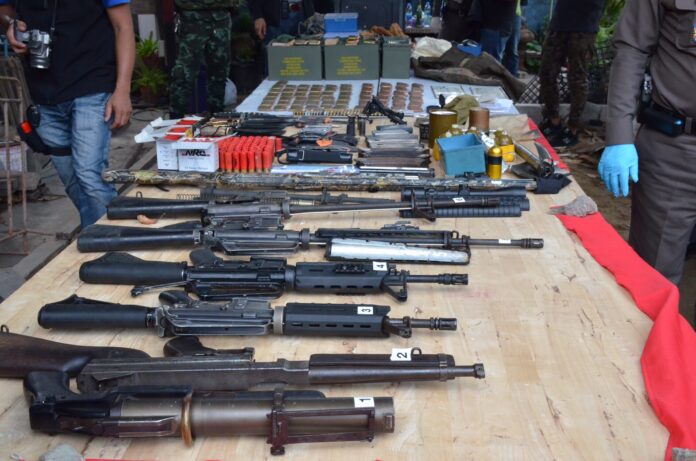 PATHUM THANI — Officers on Saturday morning seized a number of explosives and firearms at the home of a fugitive Redshirt radio host.
A group of police and soldiers raided a two-story residence belonging to Wutthipong Kochathammakun north of Bangkok in Pathum Thani's Lam Luk Ka district this morning. They said they found several weapons including explosives, rifles, shotguns, swords and thousands of bullets in the the home of Whitthipong, aka DJ Ko Tee.
Ko Tee wasn't at the scene, according to Lt. Col. Charnchol Promchana of Kukot police. A man named Teerachai Uttarawichien was found living in the house. He told police that he was Ko Tee's brother-in-law, and that all the items belong to Ko Tee, who used to run a radio station there. Teerachai was taken in by police for questioning.
Ko Tee is a leader in the Redshirt movement's United Front for Democracy Against Dictatorship. He was sought by police on the order of Prime Minister Yingluck Shinawatra for allegedly defaming the monarchy in a 2014 interview he gave to Vice News during the height of protests against her government. He hasn't been seen since the dissolution of the Pheu Thai Party following the coup that came soon after.
Related stories:
Red Fugitive Ko Tee Salutes Murdered Poet
PM Orders Inquiry Over Ko Tee's Monarchy Remark
Ko Tee Admits Organising 'Red Riot' Forces
Ko Tee: I Am Not Ko Tee The Redshirt