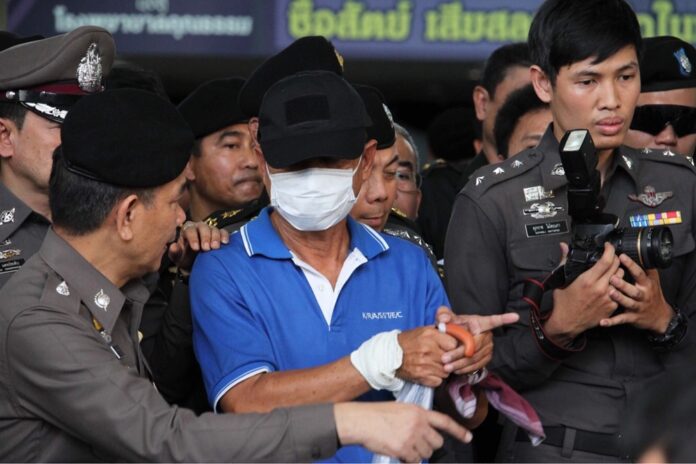 BANGKOK — A 61-year-old man who reportedly confessed to carrying out a bomb attack at an army-owned hospital said Tuesday he's sorry for his action and apologized to his victims.
As he was taken by security officers to "re-enact" his alleged crime, Wattana Pumares said he acted alone and intended the May 22 blast at Phramongkutklao Hospital to be a symbolic protest against the military regime. He also confessed to having carried out five other attacks in the past decade.
"I didn't intend to hurt anyone. I'd like to apologize to the injured victims for causing their injuries," Watana, a former engineer at the state electricity agency, said at a news conference. "I'm really sorry."
More than 20 people were wounded when the bomb went off at a reception room at the hospital, which, though owned by the army, also treats civilians.
Watana, who worked for the state electric authority until his retirement last year, said he was motivated by his hatred for the military and their frequent intervention in politics, such as the two coup d'etats launched against the civilian governments in 2006 and 2014.
"I'm just an ordinary citizen who doesn't agree with governments that came from coups, because they made the country face economic disasters, and rights and liberties of the people are violated," Watana said.
He added that he doesn't hate all members of the armed forces, only some "who exploit the public as their base to gain power." The suspect also said he's not connected to any political group.
Wattana was arrested by soldiers Thursday in his residence in northern Bangkok and identified as the perpetrator behind the hospital blast on May 22, the third anniversary of the coup that brought the current junta to power.
He was held in military detention before he was transferred to police custody for formal prosecution today. The suspect said he was never mistreated in detention.
Police accused him of not only carrying out the May 22 bombing, but also a bomb attack in 2006 in front of a shopping mall in Bangkok on New Year's Eve. Police said he staged at least four more bombings in 2007 as well as two pipe bomb blasts this past April and May.
At least publicly, Watana admitted responsibility. He said the materials for each attack cost him only 50 baht.
Speaking to reporters after his weekly cabinet meeting, junta chairman Prayuth Chan-ocha described Wattana as a "lone wolf." Nevertheless, the retired general said police are still expanding their investigation to see if he was backed by any larger group.
"The perpetrator acted individually and independently, or as they call it, a lone wolf," Gen. Prayuth said. "There are people like this in foreign countries, too. But lone wolves in Thailand usually have someone big behind them [therefore] officers have not stopped here. They're continuing to investigate."