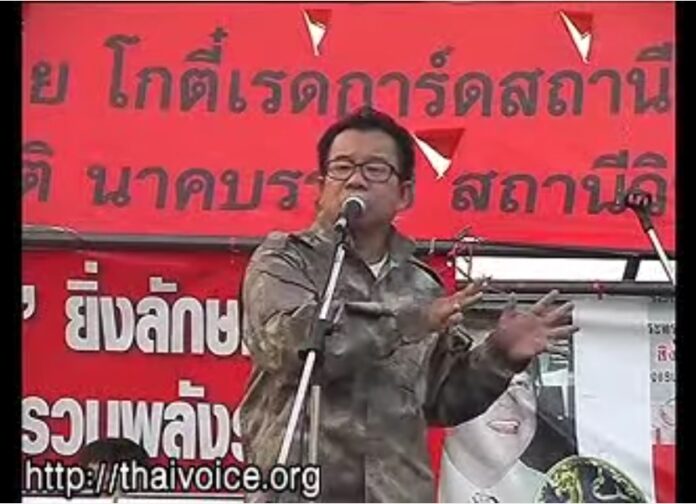 BANGKOK — A fugitive Redshirt activist wanted for allegedly insulting the monarchy and accused of plotting the assassination of junta leadership said Sunday that he's no longer residing in Laos as thought by authorities.
Wutthipong Kochathammakun, or Ko Tee, told a US-based dissident reporter he had to flee Laos because of ongoing efforts by the Thai military to abduct or kill him there. The government accused Ko Tee and his network of amassing firearms in northern Bangkok for a number of plots, including one to assassinate the prime minister.
Read: Assassination? Extradition? Ko Tee Plot is in the Eye of the Beholder
Ko Tee has dismissed the accusations, saying the weapons were planted to make a case for his extradition.
Based on the allegations, the government said it would ask Laos to extradite Ko Tee. The former radio host derided their attempts and taunted the military for shooting an ethnic Lahu activist on March 17 in Chiang Mai province.
"The government can search for me in Laos till they die, but I am not in Laos anymore," Ko Tee told journalist-in-exile Jom Petchpradab. "They suck, their intelligence reports … they work without any clue, just like how they shot the Lahu boy."
He would not say which country he's in right now, but described it as a place where "it's very hard for me to communicate, because they barely speak English here. It's also hard to get communication devices."
Ko Tee, who fled Thailand in 2014 after being charged with defaming the monarchy, said he decided to relocate due to unprecedented efforts by Thai military agents in Laos to capture or kill him.
"It's worse than when I was charged with Article 112 [insulting the monarchy]," Ko Tee said. "It's very, very bad. It's the worst I've ever experienced."
Nine people have been arrested since the military launched a series of coordinated raids on March 18 and reportedly uncovered a massive cache of military-grade weapons in a number of locations, including Ko Tee's family residence in Pathum Thani province.
Investigators said Ko Tee and his team gathered these arms to launch attacks on security officers or even make attempt on junta chairman Prayuth Chan-ocha's life if they see an opportunity.
The nine suspects have denied those charges and said they would contest them in court.
A police spokesman said a news conference would be held later today about the latest updates in Ko Tee's case.
Related stories:
Redshirt Fugitive Claims Junta Planted Guns in House