BANGKOK — It's a familiar recipe for political drama: leaked chatlogs, rumors of a party coup and disputes over who will be the next prime minister.
Recent weeks have seen spats between leading members of the People's Committee for Absolute Democracy With the King as Head of State, or PCAD, a hardline royalist movement that helped bring about the May 2014 coup, and the Democrat Party, a longtime fixture of the political establishment.
A flurry of rumors that PCAD has become an insurgent wing aiming to topple party leadership and disagreement over who should lead the nation has some asking if the radical and the mainstream are parting ways. Leaders of both factions say no, asserting that despite some differences, they remain united as ever. One of them even pointed to a recent coffee klatch as proof of their cordial relations.
"Our intention was to talk and adjust our understanding," PCAD spokesman Akanat Promphan said of Tuesday's talk between eight PCAD leaders and Democrat chairman Abhisit Vejjajiva.
"I can confirm that the ideology of the Democrat Party and the will of the PCAD actually go together," Akanat said by telephone Thursday. "Both the Democrat Party and PCAD insist on reforming the country … There is no need for division in our ideology."
Democrat official Ongart Klampaiboon delivered a similar message to reporters Tuesday.
"There is no dispute. We have always met and talked to each other at the party [headquarters]," Ongart said. "Everyone at PCAD is like a blood relative to the party."
The PCAD, who in English calls itself the People's Democracy Reform Committee, or PDRC, is run by former Democrat MPs who left the party to lead street protests against then-Prime Minister Yingluck Shinawatra in late 2013.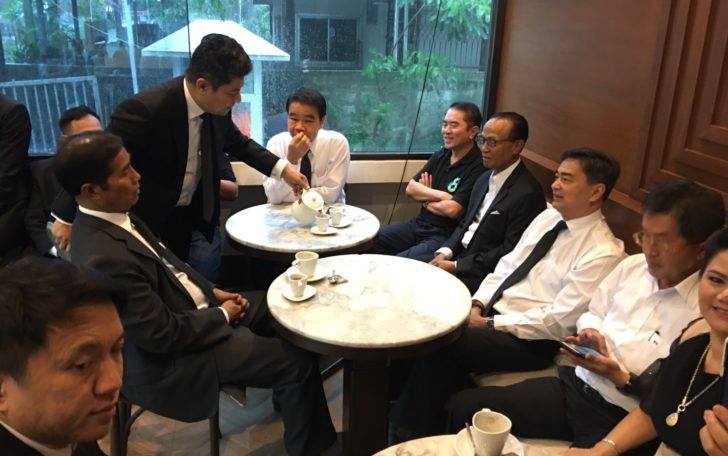 The intraparty tension echoes similar fractures worldwide in which traditional conservatives have been overtaken by populist movements. The Democrat Party's position in the established political order has been challenged by PCAD activists willing to set fire to long-standing assumptions, such as commitment to democratic principles.
At the coffee session – part of which was opened to the media – eight PCAD leaders said they were willing to work with the Democrat Party again, a remark categorized in headlines as the "Return of PCAD to the Democrat Party," though Akanat said he doesn't agree with that characterization.
"It's not entirely correct that we 'returned,' because we never left the party. We merely left the executive posts, but we never left the party," the spokesman said. "It's just a coincidence, there was news of division between us, so we PCAD leaders decided to go talk to the party together."
Crashing the Party?
PCAD-organized protests and a boycott when Yingluck called a snap election – later annulled by the courts – paved the way for the military to take over in May 2014 and Prayuth Chan-ocha to rise to power.
Although both the party and its illiberal faction are seen by supporters as champions of royalist, conservative causes, the PCAD is known for a more radical approach. Throughout the 2014 protest campaign, PCAD chairman Suthep Thaugsuban repeatedly called for an unelected prime minister to take charge, suspend representative rule, cancel elections and complete unspecified national "reforms" before returning power to the people.
Suthep got his wish after Gen. Prayuth staged a coup in May that year. Not content with Prayuth's three years in power, Suthep called upon the general to continue his term after the next election is held.
That scenario was made possible in the new constitution, which requires political parties to submit three names they would nominate to serve as premier before elections are held. For the first time in decades, being an duly elected member of parliament will not be a requirement for the top executive position.
Suthep, a former deputy prime minister turned firebrand street agitator, fist announced his stance May 18 and repeated it again Tuesday in a statement posted online. He had previously urged Prayuth to stay on "five more years."
"I believe that Gen. Prayuth Chan-ocha will be a mediator and a brave man who will reform the country according to the wishes of the great mass of the people," Suthep said, who has routinely cited the will of a "great mass" rather than majority of the public. "It will take just several years as a transition period for the country."
Suthep's backing of Prayuth likely created unease among top Democrats, who prefer party chairman Abhisit for the job. In leaked screenshots from a Saturday online chat session, deputy party leader Thepthai Senpong said he believes Democrats are not doing enough to hold Prayuth accountable.
"Some Dems are making society see that we are not on the same side as Prayuth," Thepthai wrote to his friend Takerng Somsup, director of a TV channel affiliated with the party. "Yet some Dems are acting like Prayuth's minions."
In lieu of Suthep's declaration for the junta strongman, several Democrat officials in recent days said their support for Abhisit hasn't changed.
"Nothing is changed. It's the same," former Democrat MP Witthaya Kaewparadai told reporters on Monday.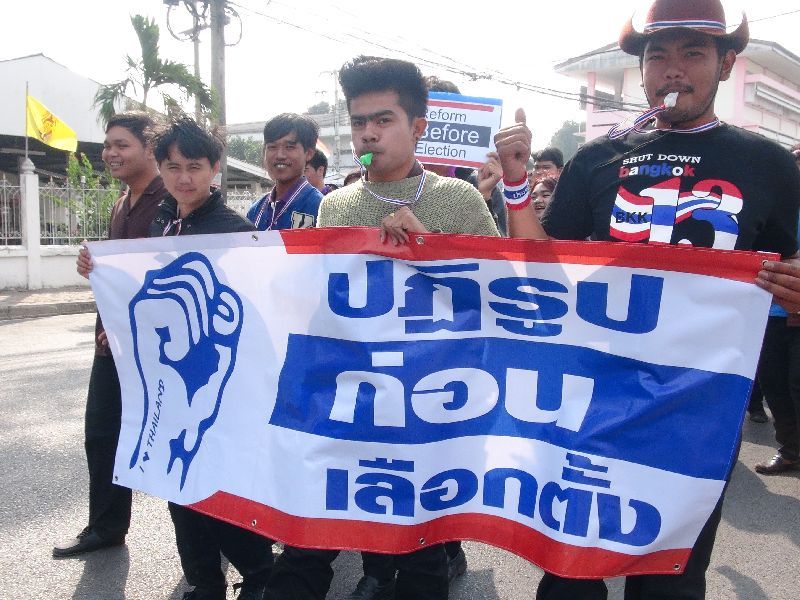 Adding to the political chatter came rumors, amplified by some newspaper columnists, that PCAD hardliners are plotting a coup inside the Democrat Party to sideline Abhisit and therefore Suthep's wish a reality.
"This might not be only a 'return' but a game to 'depose' Abhisit Vejjajiva from his seat as the party leader," read an unsigned editorial in Prachachat newspaper.
PCAD spokesman Akanat, who's also Suthep's son-in-law, said the rumors are baseless, as the movement's leaders share the same ideology with the party.
Asked about Suthep's support for Gen. Prayuth as the next premier, the spokesman said it's his personal opinion and not a PCAD position. He said the group will support whoever Democrats propose to be prime minister, Abhisit or otherwise.
"Of course the Democrats will propose their own leader, but if they propose someone else, we will respect the party consensus," Akanat said.