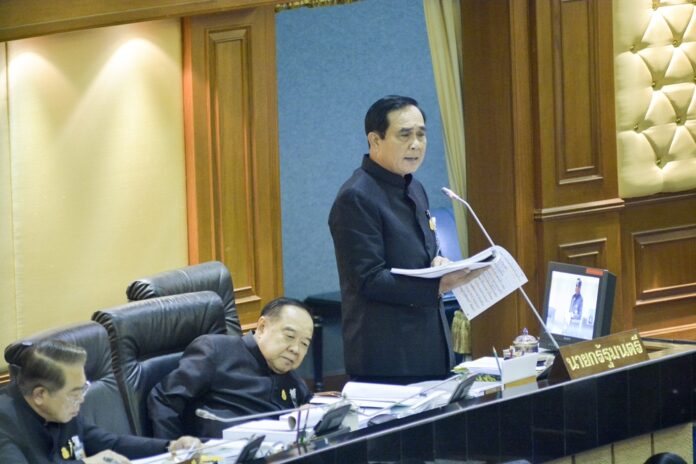 BANGKOK — The military-installed parliament on Thursday passed a bill that allows the ruling junta to continue to impose its policies after it holds elections and officially relinquishes power.
The National Legislative Assembly voted 281-0 in favor of the legislation, which calls for establishment of a national strategy committee to oversee the long-term plans of governments over the next two decades.
The committee's primary task is to set new goals every five years, with the proclaimed intent of facilitating social, political and economic development, which the military claims have been hindered by politicians in elected governments.
Government spokesman Weerachon Sukhondhapatipak said in March that reforming Thailand requires a long-term 20-year strategy to address issues such as corruption and the economy because previous governments were unsuccessful in tackling them.
The military has held power since overthrowing an elected government in May 2014. It has said elections will be held next year. The date is considered tentative, since several previous promised dates have come and gone.
Former Prime Minister Abhisit Vejjajiva was quoted Thursday by the newspaper Krungthep Turakij as saying the military government should have asked for people's opinions about the bill before making it law. He said it would only complicate the work of future governments.
Thailand has been riven by political conflict since 2006, when the army ousted Prime Minister Thaksin Shinawatra in an earlier coup. In its aftermath, supporters and opponents of Thaksin engaged in a sometimes-violent struggle for power. In 2014 the military ousted a government led by Thaksin's sister, who had also been elected prime minister, after demonstrators staged violent protests against her.
After the 2014 coup, the military promulgated a new constitution designed to limit the power of politicians.