BANGKOK — Setting aside the military uniform he's worn most of his years, the 63-year-old retired general wrapped a rural-style sash around his waist and stepped behind a mechanized plow for a photo op in a rice field.
It was the second time in two months junta leader-cum-Prime Minister Prayuth Chan-ocha had jumped behind a plow since taking his cabinet meetings on the road once a month to far-flung locations.
He says it's to follow-up on government policy and give him a direct channel to the public. And whether or not he's aping the kind of electoral base-building tours that were a signature of former Prime Minister Thaksin Shinawatra, a political messaging expert said it's atypical for someone who came to power in a coup.
"Normally the junta doesn't care whether people like them because that's not their mission," said Nantana Nantavaropas, dean of Political Communication College, Krirk University. "Lately we have seen him approaching the people more like elected politicians do."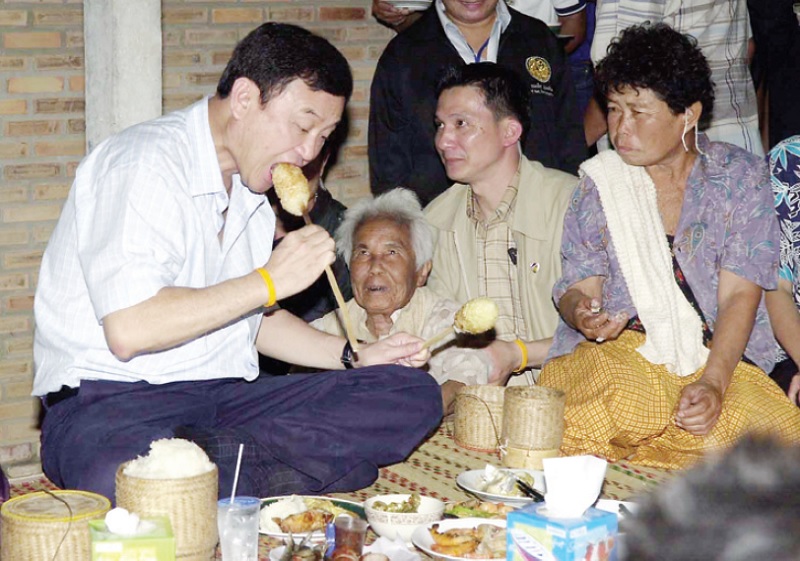 If You Can't Beat 'em …
In addition to touring the provinces, the junta chief recently stepped into an arena he'd long professed no interest in: social media.
Since late June, a pro-Prayuth Facebook page called Priang has provided behind-the-scenes information written in a colorful and emotive style. But no one in government admits involvement.
A month later on July 14, the first of two official government pages were announced. One is a platform to boost and promote government news and another promotes its reconciliation campaign.
Two more came in August just a few days before Prayuth's first mobile cabinet trip: a personal page used to build the image of Prayuth himself and another for a newly founded task force answering to him.
Government spokesman Lt. Gen. Sansern Kaewkamnerd said he was not aware which agency is behind Gen. Prayuth's Facebook page and said his agency, the public relations department, was only responsible for Page IR.
"I understand it was part of explanations to make people understand, as there are so many false stories," he said.
Internet freedom advocate Arthit Suriyawongkul of the Thai Netizen Network said the candid photos on Prayuth's page are an attempt to humanize the retired general. Nantana said his new social media presence comes from a failure to attract public interest through traditional, mainstream media channels.
Prayuth has taken to the airwaves – all of them – every Friday night since usurping power for garrulous and discursive talk fests that for a time were largely unscripted and could run for hours.
"There has never been a prime minister who hosts a talk show he mandated be televised on every channel nationwide," she said, mentioning both Prayuth's Friday talk show and the daily "Thailand Moving Forward" show every evening at 6pm.
He introduced his shows as a direct line to the people, and although all stations are obligated to air it, Prayuth has never shaken the grievance that his message can't reach the body politic. Viewership is low for both.
Nantana said his communication style has shifted and adapted significantly over the years. He's changed the set's backgrounds and changed the sets themselves. He's played with the format and swapped military uniforms for business suits. But still he's complained of being unable to reach people. Indeed, a series of recent polls have shown his popularity dropping. The August Krungthep and Nida polls found fewer respondents satisfied with his leadership.
"It should have given him amazing, huge media coverage, but now he's realized it did not work. He's mentioned it himself: people don't watch it."
Sansern, the head government spokesman, said there's no rebranding effort going on, and the mobile cabinet tour was purely Prayuth's idea to keep tabs on the implementation of his.
"His personality has always been like this. He's a soldier," Sansern said. "There is nothing about rebranding."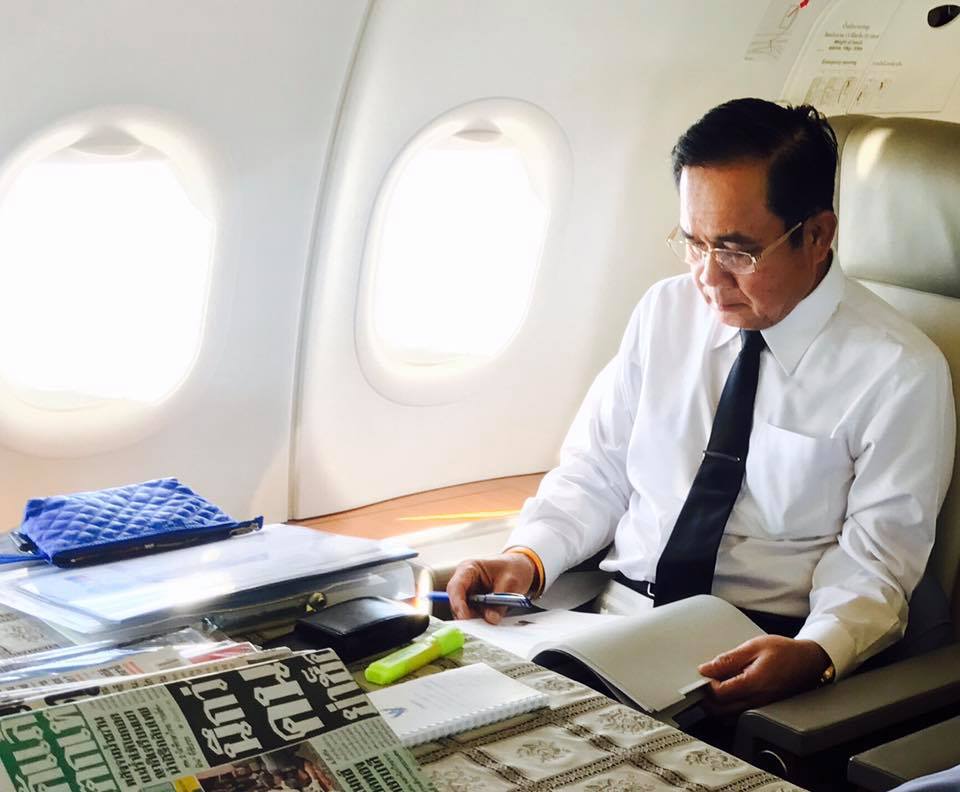 Thaksin Thinks, Prayuth Acts?
One month ago Prayuth took his cabinet on the road to Korat, a city that sits on the gateway to the northeastern provinces that remain strongholds of support for deposed Prime Minister Thaksin Shinawatra.
While the junta chief's mobile cabinet tours have been compared to those of Thaksin, they aren't the only holdovers from his days. Over time, a number of Thaksin-era figures brought into Prayuth's government, such as economics brainpower Somkid Jatusripitak and legal adviser Wissanu Krea-ngam, have revived Thaksin policies under new names.
Many of these are the same policies once assailed as populism, a word that became a term of slander for Thaksinism. Under the junta, the rice pledging scheme became the "credit to slow rice vending," a Pracharat company was founded in each province to sell OTOP products, and the registration of Thailand's poor was branded a "state welfare program."
Some media were reminded of Pheu Thai's famous slogan from the 2011 election: "Thaksin thinks, Pheu Thai acts."
Yutthaporn Issarachai of the Sukhothai Thammathirat Open University said that by relaunching the same programs under new names, the junta is trying to make people forget Thaksin and his party.
"Some details in each program have changed, but the core philosophies are the same," said the political expert. "It's populism, no different."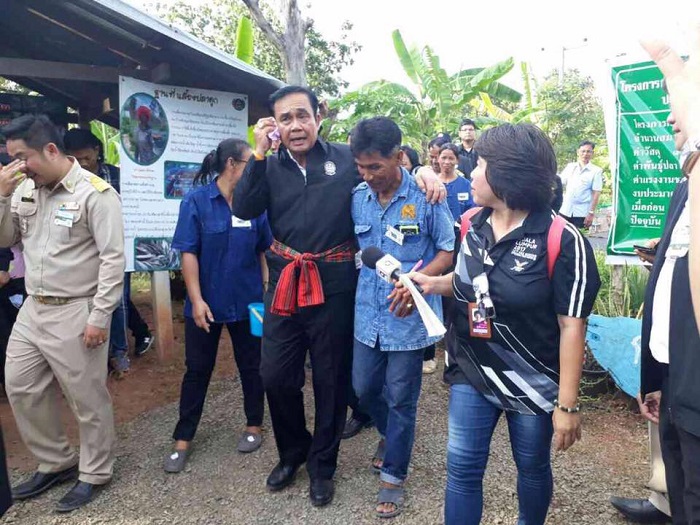 When Thaksin won a landslide victory for his second term, his "village fund" policy was considered a major factor. The million baht fund given to every community to use for internal lending to constituents spawned the term "edible democracy."
Most importantly, the policy helped build a political base for his party as local committee members – who often forge close ties to political candidates – were given control of the money.
While the military government decried populism upon taking power, it continued funding the program. It also came up with programs to distribute billions more baht to local communities. The most recent in July was called "9101 Following the Dad Steps." It handed out 50 million baht to farmers.
As with Thaksin's policies, they were structured to leave it up to local committees to decide how the money should be distributed.
The director of Chulalongkorn University's Social Research Institute, Prapas Pintobtang, said this means to connect with a broad electoral base correlated with a changing political climate.
"If you want to remain a dictator forever without holding elections, you need not care about farmers," said the veteran expert in electoral politics. "You just send soldiers to control them and take their leaders in for attitude adjustment."
Instead the military has embraced the politics-as-usual it railed against.
"The easiest way to please people is to put money in their hands; as every government has done. It's a short-term campaign for votes," he said. "Don't pretend the military was not involved in politics, that they don't think about forming a party and perpetuating their power."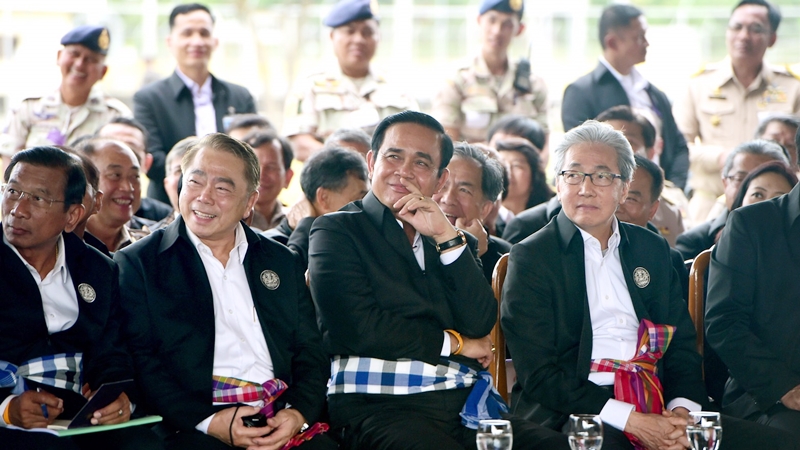 Turning Point
Whether Prayuth himself wants to remain in power, experts agree what's happening illustrates an important time of transition for Thai politics.
While nothing concrete on elections is expected until after the royal funeral, the election commission announced two months ago that they could be held next year on Aug. 19 if everything goes as planned.
Though no one can really answer what is in the general's mind, the door has been left open to  him to seek continued power through the ballot box.
The 2017 constitution written under the junta's supervision made it possible for unelected candidates to become prime minister, whether or not they are listed with any political parties.
Moreover, during the August 2016 referendum for the constitution, voters were asked an additional question on their ballots: would they allow the 250 members of the upper house, all appointed by the junta, equal votes in selecting the prime minister with the 500 members of what will likely be a divided lower house for the first five years. Voters said yes.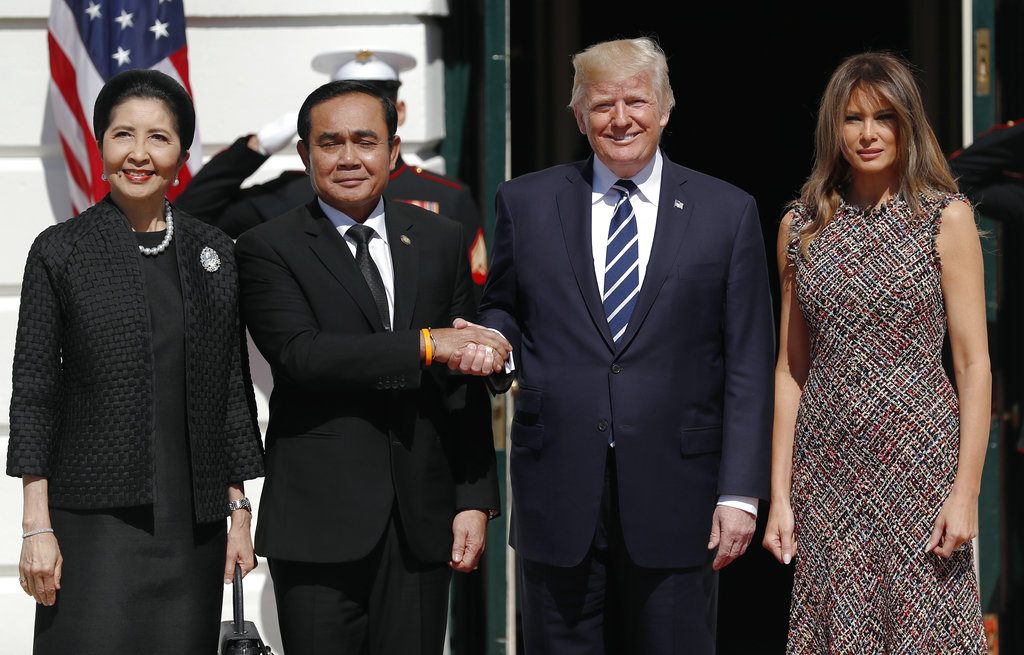 That was followed this past May by Prayuth's controversial move to make the public answer four questions he posed on future leadership. The questions, constructed to be very leading, included, "Do you think the next election will lead to a government that practices good governance?" and "Do you think that politicians who've shown inappropriate behavior should have the opportunity to seek office again? If they gain office again and new problems arise, who should fix them and with what means?"
Whether Prayuth is now building support for another term as prime minister or just trying to halt his plummeting popularity, Nantana said the social media presence and cabinet tours may not help if two important things remain unchanged: the economy and his temper.
The same goes for his populist policies. No matter what purpose they are aimed for, Yutthaporn said, new branding won't make people forget who first brought benefits to the outlying provinces.
"Thaksin invented a new political innovation," he said. "People can hardly forget him."
And while some political parties have begun signalling they could support Prayuth's stay in power, the political professor warned he will face a totally different dynamic if elected.
"The parliament then won't be the same as the NLA which now follows his orders," he said of the National Legislative Assembly, which is little more than a rubber-stamp legislature for junta policy. "Especially given his poor ability to control his temper, what will he do when faced with a censure debate?"