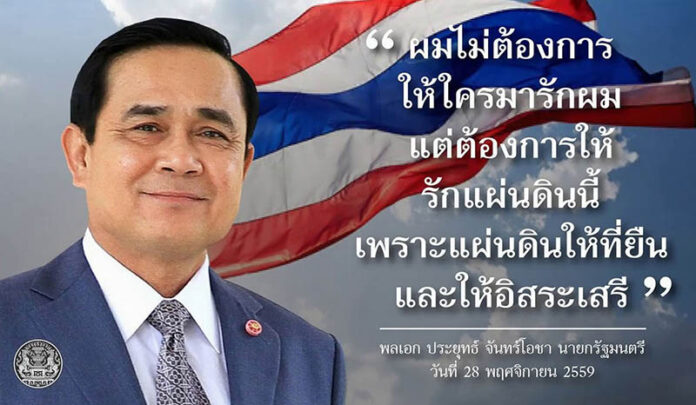 BANGKOK — Those who can't get enough of junta leader Gen. Prayuth Chan-ocha can now get an unfiltered feed via his first serious foray onto social media.
The page Gen. Prayut Chan-o-cha and Team has more than 8,000 followers since it launched Aug. 18 with an image of Prayuth thanking the people who appreciate him. On Aug. 21, Prayuth –  or a member of his team – posted a candid-looking photo of the 63-year-old leader of the 2014 coup seriously mulling over some paperwork aboard a plane to Nakhon Ratchasima.
"Preparing to talk with people while waiting for the flight to take off," read the post, which as of Monday afternoon had gathered 251 likes and 34 shares.
Before and after he seized power in the coup, Prayuth has had virtually no social media presence. Other regional autocrats, such as Cambodia's Hun Sen and his 8.6 million followers, command strong online followings through prolific posts.
Prayuth's page quickly drew notes of support.
"I love Uncle Tuu," wrote Nipa Ka, in one comment, using his nickname.
Not all were supportive. Some sought to draw the attention of Prayuth's Facebook team to their economic difficulties, such as Chana Wansakul, who wrote to complain about his heavy debts.
A photo of Prayuth's tidy work desk posted Aug. 23 came with a caption making light of his authoritarian side.
"The team has been chastised! The desk was not orderly…" it read.
Arthit Suriyawongkul, coordinator of Thai Netizen Network, said he would follow the page to monitor what's going on despite not being a supporter of the junta.
Arthit believes it's an attempt to humanize Prayuth and present him more candidly, "as someone warm," and not a dictator.
"I don't really understand why now, three years after being in power? Could it be that it's an attempt to alter feelings toward Prayuth as someone who is not the leader of the NCPO any longer?" Arthit said, using the acronym for the junta's formal name, the National Council for Peace and Order. "It may make sense that Prayuth is trying to carve out an identity separate from the army and the NCPO."
Since Prayuth came to power, domestic media has risked setting aside substantive coverage in favor of reports on his eccentric behavior, whether it's the ballads he's credited with composing or his conversations with frogs.
Although Arthit doesn't think the Facebook page will win converts, the online freedom advocate said it's a clear attempt to make Prayuth appear more approachable.
"It's as if he's being presented as a public figure who is ready to look after the people for another 20 years," Arthit said, in reference to 20-year programs the junta has asked the public to support.
The new page is not a "verified" page, but the government recently promoted its existence.
Either way, Prayuth is a late-starter. His seemingly vanquished political rival, Yingluck Shinawatra, commands a following of more than 6 million people on Facebook.