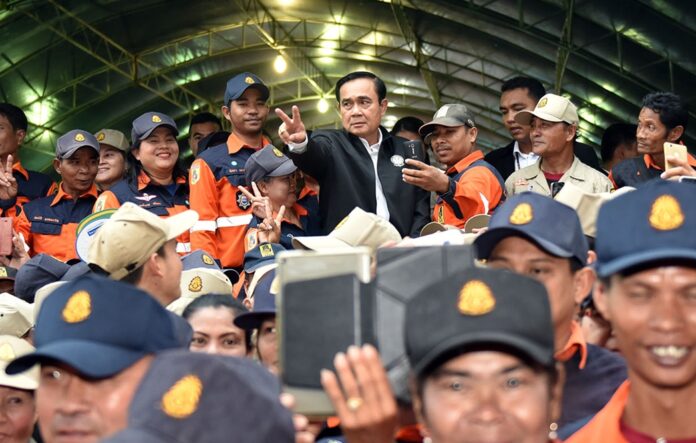 BANGKOK — Three proposals are the moving pieces which may decide how the next election plays out, who goes into it at an advantage and ultimately could allow the junta to maintain its hold on power.
The maybes in play include establishing a proxy party to represent the junta, disbanding existing political parties and allowing candidates can run as independents without any party affiliation.
All of this is making waves as familiar and controversial figures like Suthep Thaugsuban, who nominally "retired" from politics after leading the movement that paved the way for the 2014 coup, take positions in the fray.
Here's a breakdown of the three.
Military Party
If 250 votes from junta-appointed senators aren't enough to tip the balance in favor of re-appointing Gen. Prayuth Chan-ocha to be prime minister of a post-election government, it's best to have the help of a real political party.
Speculation the junta and its backers are planning to roll out a new party to further their interests persists despite repeated denials and evasions by lead regime figures – most recently by Gen. Prayuth Chan-ocha on Tuesday.
Read: 'Yes' Vote For New Charter Will Entrench Junta
Paiboon Nititawan, a former senator and member of the defunct junta-appointed National Reform Council, announced back in August 2016 that he intended to set up a new political party supporting people such as Prayuth.
Suthep Thuagsubhan, former leader of the People's Committee for Absolute Democracy with the King as Head of State, or PCAD, has dove back in despite vowing to leave politics for good after the 2014 military coup he played an instrumental role in provoking.
Now Suthep is behind a proposal to disband all existing political parties. On Friday, he's set to speak to the junta-appointed legislature about the need to change the law.
To build a political vehicle for itself, the junta would need a proper political platform including seasoned politicians with proven track records of delivering votes and MPs.
But that effort is unlikely to be limited only to the Paiboons of the world. It may require poaching former MPs from the Democrat Party, where once all-powerful Secretary General Suthep has long been a kingmaker.
One possible key executive in a new party could be Somsak Thepsuthin, the former head of the defunct Matchima Party (Neutral Democrat Party) who went on to hold posts as a member of the Pheu Thai Party.
Read: Suthep Endorses Constitutional Loophole to Keep Prayuth in Power
Despite once being detained for a junta "attitude adjustment" session – during which he stayed well-supplied with expensive food and wine to share with other detainees and the military commanders – the influential former Sukhothai rep left Pheu Thai and recently changed his tune.
He announced Monday he was available to be recruited. Incidentally, Prayuth and his military cabinet – which has been touring the nation – will happen to be in Somsak's Sukhothai political stronghold on Christmas Day.
Deputy Prime Minister Somkid Jatusripitak – who has a strong and enduring relationship with politicians who served former premier Thaksin Shinawatra – has been the object of speculation of heading a military proxy party. Both Somsak and Somkid have been evasive on their futures.
Read: 'Junta Party' Leader Says He Isn't, Critic Says He Is
Somkid noted Monday that he's over 60, suggesting he may be too old for the post, a fact which hasn't stopped 63-year-old Prayuth, his 72-year-old deputy Prawit Wongsuwan – or speculation that Somkid would be perfect for the job.
Political commentator Chamnarn Chanruang told Khaosod English's sister publication Matichon that Somkid is a suitable choice because he is a civilian specialized economic matters. Chamarn added that we will have to wait and see how the economy under the junta performs in the months leading to the election slated for November.
Chamnarn added that there may be more than one pro-junta or proxy party established, just in case one or two fails to be a ballot box magnet.
Party's Over
Although Democrat Party leader Abhisit Vejjajiva said Monday that it's okay to form a political party that supports the military, the same cannot be said about his views on rewriting elections law to disband existing parties, as his former right-hand man Suthep has resurfaced to call for.
Both Abhisit, his party and their archrivals in Pheu Thai – who were ousted in the 2014 coup – have cried foul, seeking explanations and assurances.
According to Paiboon, who is a major advocate of the move, amending the law to force all political parties to disband and register again before the election would level the playing field for newly registered parties.
Read: Selective Lifting of Politics Ban Unfair, Democrat Says
The proposal has been criticized by the two major political forces as a bid to undermine their strength, particularly the Democrat Party, which claims 2.8 million members.
The party rightly fears it would be unable to reconstitute and re-register that many people in a short span of time – from whenever the junta lifts its ban hammer from politics until Election Day.
It would also be competing for members with every other party new and old trying to lure people to sign on.
Maybe this is fair. Or, maybe it is unfair for parties which have invested years – seven decades for the Democrats – to get where they are.
Going Party-Free
The third proposal – arguably the wildest – seeks to amend laws governing political parties to exempt MPs from any party membership to run as independents. Those with long memories see this taking Thai politics back to pre-1974.
Backers say such a move would free MPs from the party hegemony that dictates which way they vote. Critics say this is no liberation, as unshackling MPs from their parties would simply open them and their votes up to the highest bidder. Even weaker parties would result.
Although the media has initially linked the idea to Paiboon, the former senator disassociated himself from it Monday, saying he is not the one pushing for the move.
None of these outcomes are set, but for now, the genie seems to be out of the junta's lamp and these factors will continue to drive the debate and speculation being put to regime leaders and pundits on a daily basis for the weeks and months to come.