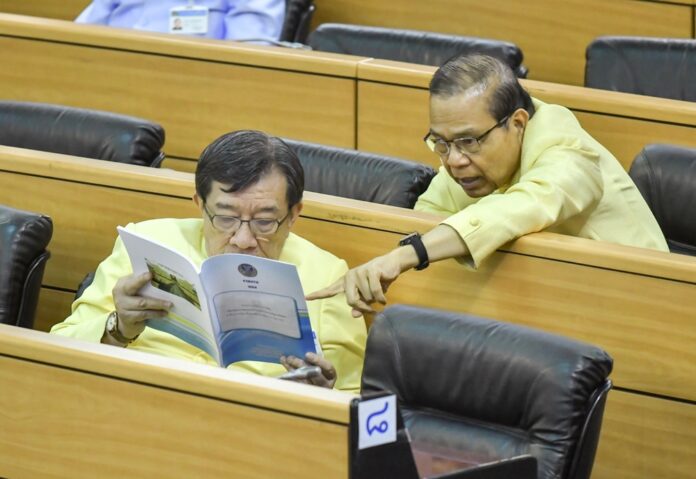 Update: At about 8:30pm, the National Legislative Assembly voted overwhelmingly – 196 to 12 with 14 absentions – to effectively delay the November elections by 90 days. That would make February 2019 the mostly likely time general elections could be held, barring a successful appeal to the Constitutional Court of today's vote.
BANGKOK — The junta-appointed legislature Thursday were locked in debate over delaying elections promised for November into next year, a day after Western diplomats urged Thailand to keep to the original timeline.
Protracted deliberations by the National Legislative Assembly are expected to extend into late Thursday night on the bill a key legislator expects will pass despite calls from the kingdom's Western allies that it be set aside.
One such call came from Pirkka Tapiola, EU ambassador to Thailand, who urged the regime Wednesday to ensure a quick return to democracy by sticking to its pledge to hold elections in November instead of postponing them to February 2019.
Read: Possible Election Deferment is Plot to Benefit Junta: Critics
"[We] encourage stakeholders to respect the previously announced road map for the return to democracy in Thailand, for the benefit of all its people. The EU stands ready to assist Thailand in this endeavor," the ambassador said, adding that the EU calls for the lifting of restrictions of various rights including rights to assembly and press freedom. Tapiola said he understands that it is still possible to hold elections by November this year.
The statement was a reaction to comments by foreign minister Don Pramudwinai, who said earlier that the proposed amendment is the purview of the legislative branch and that Prime Minister Gen. Prayuth Chan-ocha had nothing to do with it, as his critics suspect.
Kittisak Ratanawaraha, a member of the NLA committee vetting the bill said he believes there's enough support within the assembly to push for the amendment in the third and fourth readings later this afternoon.
Stephane Castonguay, a US Embassy spokesman, on Thursday reiterated the embassy's desire to see a poll held no later than November.
"We look forward to Thailand's return to a democratic government via free and fair elections as soon as possible. This would allow us to strengthen our relationship and for Thailand to be a strong and stable regional leader," Castonguay said.
The reactions came as junta-appointed legislators reiterated Wednesday that they would continue with the proposal to amend Article 2 of the election bill that could defer its enforcement by 90 days.
Legislators say the measure is needed to give political parties more time to prepare for a general election. As of today, the junta's ban on political gatherings and activity remain in place. Critics of the military regime say it is buying time to gain support for its own proxy political party.
On Friday, the NLA voted in its first reading to defer elections by 90 days. Prayuth on Monday denied involvement in the move.
Correction: A published update to this story incorrectly identified the time of the vote as being at 9pm. It was held at about 8:30pm. It also mischaracterized the vote as being to delay elections directly. In fact, the vote is to delay by three months the implementation of laws necessary to hold an election; therefore, effectively delaying it until February 2019 under current conditions.