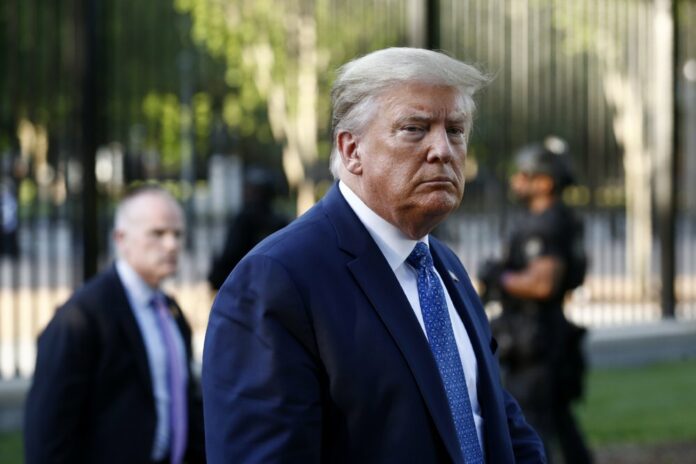 WASHINGTON (AP) — President Donald Trump is exaggerating economic gains for African Americans during his administration.
He claims full credit for achieving the best economic figures for blacks across the board. That's not accurate. Black unemployment did reach a low last year, but much of the progress came during the Obama administration. Household median income also was higher for blacks prior to Trump taking office.
Trump also asserts that Friday's unemployment report was a triumph in "equality," making it a "great day" for George Floyd, whose death has spurred protests against racial inequality. But black unemployment actually increased, while declining for whites.
A look at some of his claims:
TRUMP: "What we're announcing today is a tremendous tribute to equality. We're bringing our jobs back." — remarks Friday to reporters.
THE FACTS: The joblessness figures in Friday's report did not improve uniformly across racial and ethnic groups.
The unemployment rate did decline last month for white workers, to 12.4% from 14.2% in April, as well as for Latinos, to 17.6% from 18.9%.
But joblessness actually rose slightly for African American workers, to 16.8% from 16.7%. For Asian Americans, it increased to 15% from 14.5%.
___
TRUMP, on the economy before the pandemic: "We had the best numbers for African Americans on employment and unemployment in history … best everything." — Fox News interview Wednesday
THE FACTS: True on unemployment. Not true by a long shot on "everything" in the economy.
Black unemployment reached a record low during the Trump administration, 5.4% in August, as the longest economic expansion in history pressed ahead.
Most of the progress came when Barack Obama was president: Black unemployment dropped from a recession high of 16.8% in March 2010 to 7.8% in January 2017. Improvement continued under Trump until the pandemic. Black unemployment reached 16.8% in May, compared with 13.3% for the overall population.
Not all economic measures improved for African Americans under Trump before the pandemic. A black household earned median income of $41,361 in 2018, the latest data available. That's below a 2000 peak of $43,380, according to the Census Bureau.
More broadly, there were multiple signs before the pandemic that the racial wealth gap had been worsening.
___
TRUMP: Prior to the pandemic, "we had the most people working in the history of our country, almost 160 million people. We were never even close to that." — remarks Friday.
THE FACTS: Yes, but that's because of population growth.
A more relevant measure is the proportion of Americans with jobs, and that never came close to record highs.
According to Labor Department data, 61.2% of people in the United States 16 years and older were working in January. That's below the all-time high of 64.7% in April 2000, though higher than the 59.9% when Trump was inaugurated in January 2017.
That figure currently stands at 52.8%