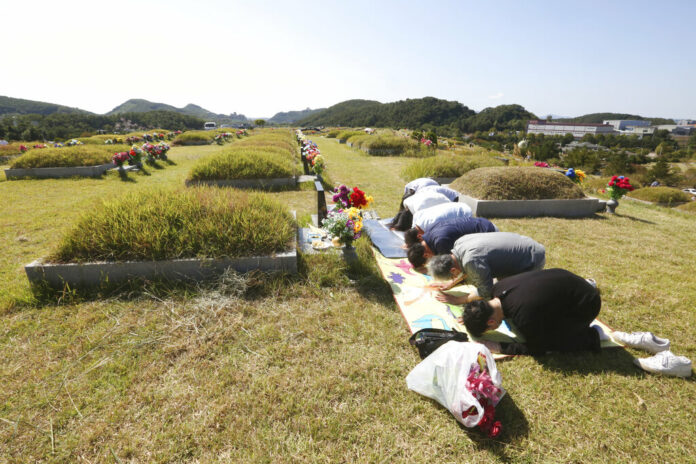 SEOUL, South Korea — South Korea has reported 50 new cases of the coronavirus, its lowest daily increase in nearly 50 days, a possible effect of strengthened social distancing measures that were employed to slow a major outbreak surrounding the greater capital region.
The numbers released by the Korea Disease Control and Prevention Agency on Monday brought the national caseload to 23,661, including 406 deaths. Thirty-four of the new cases came from the Seoul metropolitan area, where about half of the country's 51 million people live, and 10 were tied to international arrivals.
Monday's daily jump was the lowest since 34 new cases were reported on Aug. 11. The country reported around 200 to 300 cases a day from mid-August to early September, a resurgence that forced officials to tighten social distancing restrictions in the Seoul area and elsewhere.
Officials have called for vigilance ahead of the Chuseok harvest festival that begins Wednesday and continues through the weekend. They are pleading for people to stay home during an annual holiday when South Koreans typically travel to visit relatives, and nightclubs, bars and other establishments deemed "high-risk" will be shut in Seoul during the holiday period to reduce gatherings.
___
HERE'S WHAT YOU NEED TO KNOW ABOUT THE VIRUS OUTBREAK
— Military suicides are up as much as 20% in COVID era
— UK university students furious over COVID-19 restrictions
— Israelis mark Yom Kippur under 'painful' virus lockdown.
— Across the country, some Republican candidates are counting on lingering voter resentment of cornavirus lockdown orders to boost them into office.
— Masks are posing a problem for educators who teach students who are deaf, hard of hearing or learning English. Experts say other students need to see the teacher's mouth in order to learn how to form words.
— The nearly 1 million people who have lost their lives to COVID-19 also have given the world a gift: a better understanding of how to treat the disease.
___
Follow AP's pandemic coverage at http://apnews.com/VirusOutbreak and https://apnews.com/UnderstandingtheOutbreak