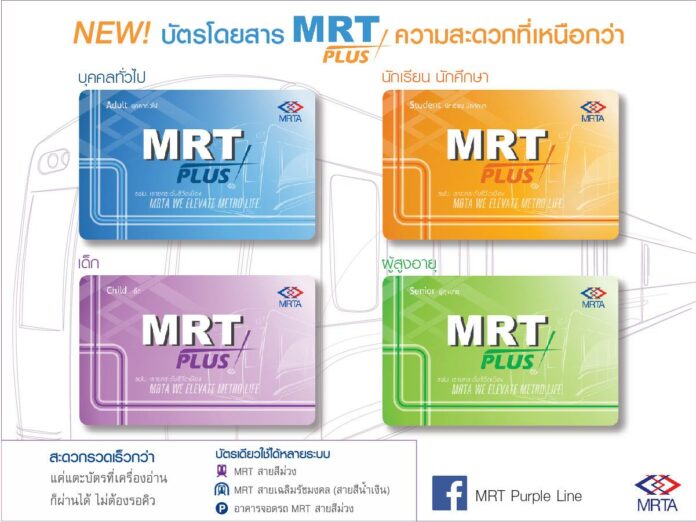 BANGKOK — In case there were not enough cards to carry, the operator of the soon-to-launch MRT Purple Line will soon offer a new one.
The new card, called MRT Plus, will work the same as those already in use for the existing subway system. It will, like the old cards, be usable from MRT Hua Lamphong on the Blue Line through MRT Khlong Bang Phai on the new Purple Line when it opens in August.
The only real difference is that the new card can be used by commuters at four park-and-ride structures along the line at the Khlong Bang Phai, Sam Yaek Bang Yai, Tha It and Yaek Nonthaburi 1 stations.
The biggest benefit for anyone who's used the system is not waiting in long queues to buy tickets, but the fares will be the same – 14 baht to 42 baht.
It bears reminding those only planning to ride the Blue Line that they have until the end of June to trade in their old stored value cards for new ones soon being introduced.
Despite the Transport Ministry's promise of one card-to-rule-them-all, MRT operator Mass Rapid Transit Authority of Thailand plans to continue offering its own cards even after it is available.
The Mangmoom (Spider) card, a long requested and long delayed solution integrating the MRT  with the BTS Skytrain and Airport Link systems has been delayed again until later this year at the earliest.
Related stories:
Frustrated Mess When Thousands Queue for Free Purple Line Tickets (Photos)
Sign Up to Test Ride New MRT Purple Line
Trade in Those MRT Cards or Lose the Money
Imagine Bangkok 2016: Better city, less life?