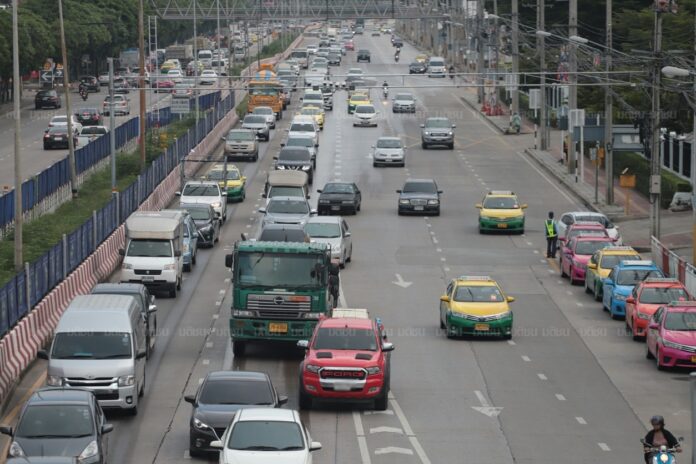 BANGKOK — It's Friday evening and the commute home is more exhausting than the actual work week. Slogging toward an overpass, a random car creeps from behind and swoops in up ahead, extending the traffic infinity war even longer.
Now those lane cutters better watch out.
Traffic police on Wednesday launched a new surveillance system at 15 trouble spots near major intersections across Bangkok to ticket drivers who change lanes illegally.
Update: Bangkok Traffic Cams Bust 27,000 Drivers. Here's Where They Are.
"We've been trying to tighten up law enforcement, but a lot of people are still committing violations," said Maj. Gen. Chirapat Phumichit, Bangkok's No. 2 traffic cop. "Particularly, cars trying to cut others off before overpasses or tunnels are one of the major causes of accidents and heavy congestion."
City Hall spent 14 million baht for the new camera system. It includes plate recognition that enables authorities to identify and ticket offenders within seven days. The cameras will operate at all hours and keep records for at least one year.
Areas with the new system include the Prachanukun, Ratchathewi and Rama IV intersections, as well as the Memorial Bridge spanning the Chao Phraya River.
The division said the system allowed it to detect more than 220,000 offenders during a 30-day trial period last month – more than 7,000 a day.
On Wednesday, the system detected about 7,500 cars changing lanes illegally between midnight and 11:30am.
Those caught violating the law will be fined up to 1,000 baht.
Chirapat believes more cameras will be installed if the system is effective.
"These 15 spots came from the budget requested from the Bangkok administration," he said. "If they work well, making more people obey the law, reducing accidents and traffic jams, I personally think we will be able to expand to other areas with these kinds of problem later on."
A Facebook poll conducted by JS100, which monitors traffic and emergency situations, revealed 53 percent of respondents don't like the new system.
Some motorists said the roads aren't ready for such measures.
"Some roads still don't have distinct lane divisions. Please fix this before you catch offenders," user Krissada Ongartkositavong wrote.
"How are you going to deal with cars with a fake license plate?" user Jarun Kongjee wrote. "There's no one directly responsible for reviewing this before issuing a ticket."
Those who approved believe it will help improve road users' manners and discipline.
"If you don't consider committing an offense, there's nothing to be afraid of," user Jinuthtachet Sangsuriya wrote. "Get rid of those irresponsible people that don't like to obey the law."
"It's great. Now those cutters in front of the line will be scared," user Supawat Hunchune wrote. "Everyone is queuing but you just cut them. It's not something to be proud of."
The 15 spots now under surveillance are:
Bang Khen Intersection, Ngam Wong Wan Road (inbound)
Chaeng Watthana Government Complex Intersection (outbound)
Huai Khwang Intersection, Ratchadaphisek Road (inbound)
Borommaratchachonnani Intersection (outbound)
Bang Khen Circle Intersection, Chaeng Watthana Road (inbound)
Ratchathewi Intersection, Phetchaburi Road (outbound)
Sam Liam Din Daeng Junction, Ratchawithi Road (inbound)
Prachanukun Intersection, Ratchadaphisek Road (outbound)
Siriraj Overpass, Arun Amarin Road (outbound)
Ratchada-Lat Phrao Intersection, Lat Phrao Road (inbound)
Ratchada-Lat Phrao Intersection, Lat Phrao Road (outbound)
Wong Sawang Intersection, Ratchadaphisek Road (outbound)
Rama IV Junction, Ratchadaphisek Road (outbound)
Memorial Bridge, Prajadhipok Road (inbound)
Kamnanman Junction, Kanlapaphruek Road (outbound)