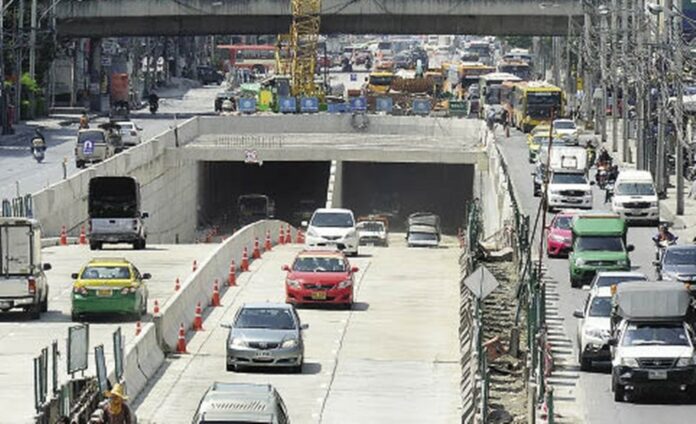 BANGKOK — Transport officials Tuesday said they're considering building the country's first underground expressway to solve traffic jams in the capital.
The plan from Transport and Traffic Policy Plan Office said the roadway would be 9 kilometers long, starting from Naradhiwat Rajanagarindra road in central Bangkok to Sam Rong district in Samut Prakan province.
"Initial research found the possibility to build the first underground expressway in Thailand there," deputy director general Chayatan Phromsorn said. "It could help ease high traffic congestion in Sathorn, Silom and nearby areas in the long run."
He said the expressway, if greenlit, would collect a toll and could be divided in two levels for public transport and private vehicles. Construction costs could run high, ranging from 2 to 10 billion baht per kilometer.
After the junta leader ordered a way be found to urgently solve the chronic traffic jams, Transport Minister Arkhom Termpittayapaisith said more underground roads in Bangkok could follow, as space on and over the ground may be scarce.
A recent study by the Urban Design and Development Center of Chulalongkorn University found streets cover 7 percent of land in Bangkok, while the average in most major cities is about 20 percent to 25 percent.
Chayatan said the project needed further study, and that his office could propose the results to the Transport Ministry within two to three months.