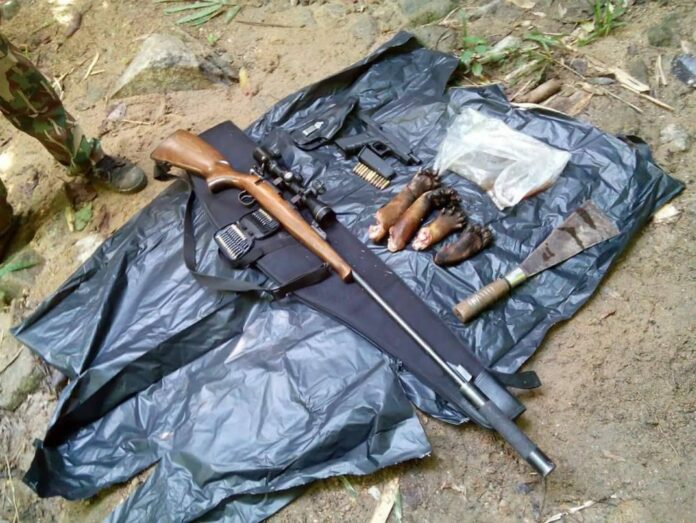 KANCHANABURI — A dozen suspects posted bail Tuesday after they were arrested and found with hunting gear and bearcat paws in their vehicles in Sai Yok National Park.
A Kanchanaburi court on Tuesday afternoon set the bond at 200,000 baht for each suspect.
Today, police and park rangers – led by park chief Panatchakorn Phobandit – will search the Tao Dam monastery and its vicinities for evidence.
According to Panatchakorn, authorities do not believe one of the suspects' claims who said he bought the paws from local people in the park.
Read: Jaw, Skin Found at Park Where 12 Were Charged With Poaching
The 12 people were arrested Sunday. On Monday night officers found an animal jaw, skin, bullet shells and a machete near Tao Dam monastery, which the group claimed to have visited to make merit.
Among the suspects is Watcharachai Sameerak, permanent secretary of Dan Makham Tia district in Kanchanaburi. He was suspended from duty Monday.
In addition to poaching, the 12 face charges such as illegal possession of a protected animal and taking a vehicle into an off-road area without authorization.
Bearcats are a protected species under the 1992 Wildlife Protection Act.
Related stories:
Jaw, Skin Found at Park Where 12 Were Charged With Poaching
Govt Official Among 12 Charged With Poaching in Kanchanaburi