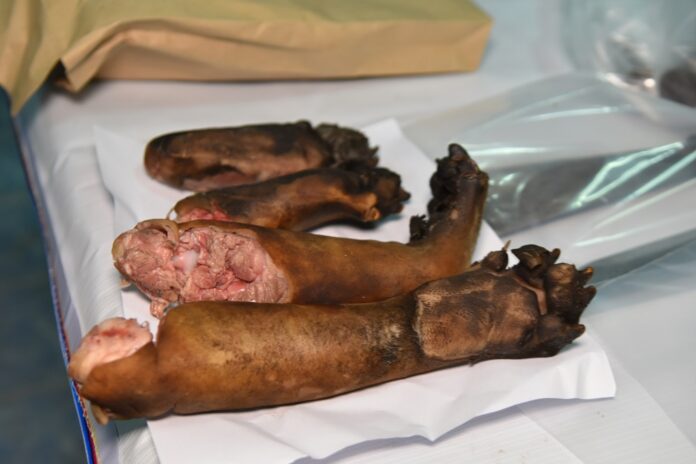 KANCHANABURI — Twelve people were arrested Sunday and charged with poaching after they were found with hunting gear and severed bearcat limbs.
Panatchakorn Phobandit, chief of Sai Yok National Park, led a troupe of rangers to arrest 12 people travelling in a caravan of six off-road vehicles in Kanchanaburi province. Among the suspects is Watcharachai Sameerak, permanent secretary of a provincial district.
The search found a rifle, two pistols, ammunition and hacked bearcat paws.
Watcharachai denied that he and the other 11 visited the park to kill wildlife. He told officers that the group intended to make merit at a monastery and stay overnight.
Watcharachai said the bearcat paws belonged to a member of the group who bought them.
Jirakiat Bhumisawat, Kanchanaburi governor, said that if Watcharachai – a government officer – is found guilty, he would be dismissed.
Earlier this year, Italian-Thai Development president Premchai Karnasuta and three other men were arrested in the Thungyai Naresuan Wildlife Sanctuary in the same province. They were found at a campsite in possession of two rifles, a double-barrelled shotgun, various bullets, the body of a Kalij pheasant, a muntiacini deer carcass, a skinned and salted black leopard and a black panther skull.
The case against Premchai is ongoing.
Related stories: