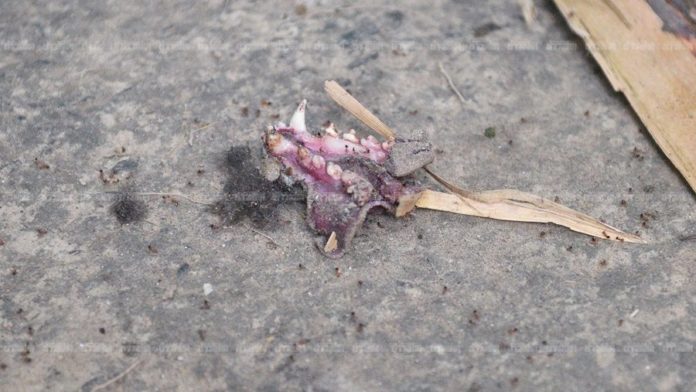 KANCHANABURI — Park rangers on Monday night discovered more severed animal parts inside a national park where a dozen people – among them a government official – were charged with poaching last week.
Following the Sunday arrest of 12 people found possessing severed bearcat limbs in Kanchanaburi province's Sai Yok National Park, rangers discovered more animal body parts at a camping site near a Buddhist monastery the group claimed to visit. Among the arrested was Watcharachai Sameerak, permanent secretary of a provincial district, who was suspended from duty Monday.
Panatchakorn Phobandit, the park's chief, and a troupe of rangers traveled for more than eight hours to Tao Dam Monastery and found animal jaws, black hair-covered skin, bullet shells and a machete at the compound.
Authorities are investigating whether the body parts belong to the same bearcat, whose paws – along with hunting gear – were found with the suspects.
Read: Govt Official Among 12 Charged With Poaching in Kanchanaburi
The monastery caretaker, an ethnic Mon identified only as Tata, told officers that at about 7pm on Saturday, the 12 suspects arrived at the venue with their off-road vehicles. He added that the group camped in tents in front of the monastery and brought the monks offerings of rice and dried food the next morning.
Tata said he hadn't seen the group at the monastery before.
In addition to poaching, the 12 face charges such as illegal possession of a protected animal and taking a vehicle into an off-road area without authorization.
Bearcats are a protected species under the 1992 Wildlife Protection Act.
Related stories:
Govt Official Among 12 Charged With Poaching in Kanchanaburi