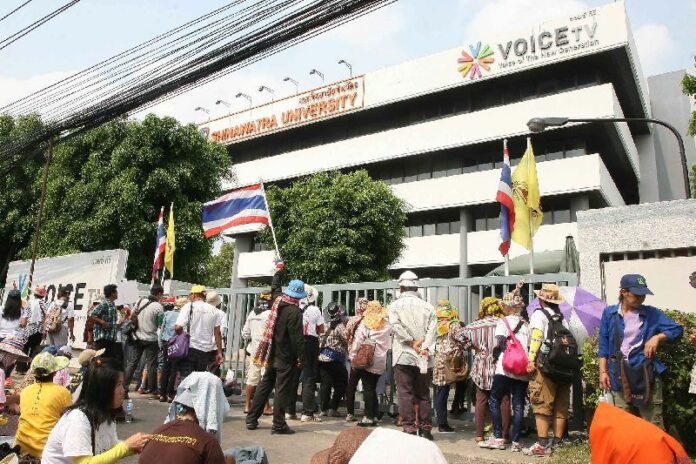 (24 February) Khaosod English has retracted the article in which anti-government activist monk was alleged to have requested donation from a pro-government TV station.
In the original news story, Buddha Issara – a core leader of the People′s Committee for Absolute Democracy With the King As Head of State (PCAD) – was said to make the demand during a rally in front of Voice TV, which was founded by a family member of Prime Minister Yingluck Shinawatra.
The story quoted the monk as saying that the station has unjustly defamed farmers who have organised rallies in many provinces to demand payment from the government under the rice-pledging scheme.
The story went on to claim that Buddha Issara suggested Voice TV pay him some of "hundreds of millions of baht" the station received in advertisement revenue. The monk said he would use the "donation" to pay farmers who are currently in distress, according to the article.
The article also attributed the quotes "If you donate some of your ads fund to our farmers brothers and sisters in distress, we will be very delighted" and "I am not extorting anyone. I am merely soliciting for a donation. If you have faith, you should show some sympathy" to Buddha Issara′s speech during his rally in front of the TV headquarters.
However, upon inspection by Khaosod English′s editorial team, the monk did not make any demand for donations from Voice TV throughout the rally.
The quotes were in fact taken from the official Facebook account of Buddha Issara by one of our reporters, which were most likely written by one of his close aides.
Upon this discovery, Khaosod English has decided to retract the story and offer our sincere apology for causing any confusion to our readers. Postings of the said article on our social media platforms have been likewise deleted.
Appropriate disciplinary actions have been taken by Khaosod English′s editorial team to prevent any further occurring of such error and to guarantee our commitment to an objective and truthful news reporting.