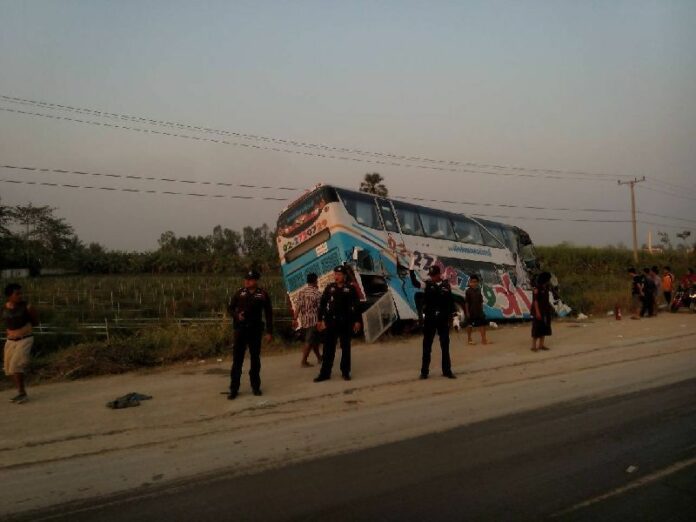 (24 December) A tour bus accident in Nakhon Pathom province has left at least 40 Russian tourists injured.
Witnesses said the double-decker bus operated by Jiratkan Company collided into the back of a traveling 18-wheeler truck in Kampangsan district on Sunday before sliding off the road, causing many of 50 Russian passengers, as well as their tour staff, to be slightly injured.
Some of the wounded were later sent to a hospital. No serious injury has been reported.

Mr. Somphon Lao-sa, the driver of the bus, told our correspondent that he had previously taken the tourists from Pattaya district in Chonburi province to Kanchanaburi province.
The bus was en-route back to Pattaya on Prataen – Kampangsan Road, when the truck, which was travelling in front of the tour bus, suddenly slowed down, Mr. Somphon said. The bus driver then tried to stop the bus, but it hit into the truck and eventually slid off the road.

The tour staff reportedly helped tourists to leave the bus before contacting the tour company to send another bus and pick up the uninjured passengers to their destination.