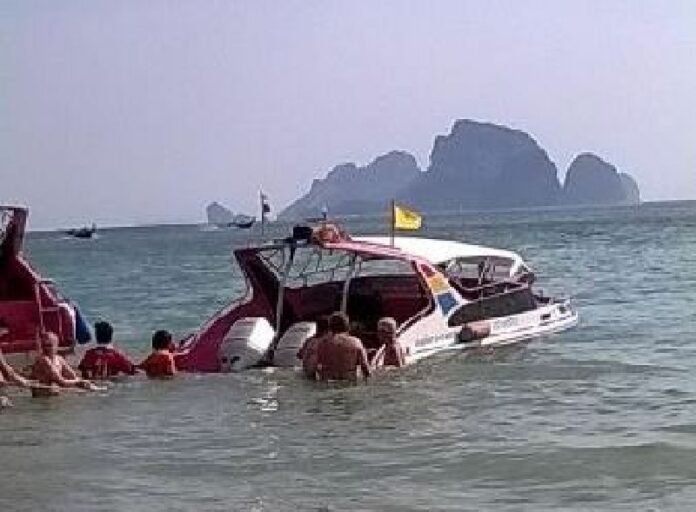 (24 February) Two 'speedboats' collided in Krabi province yesterday evening, resulting in severe injuries of 2 foreign tourists.
The speedboat ′Chainarot Namchoke 8′ was travelling from PP Islands to Ao Nang Bay with 27 passengers when it collided with another speedboat ′Pimsan 5′ which was travelling from Napparattara Beach with 10 passengers.
The boats were heavily damaged. Pimsan 5 reportedly sank into the sea, while Chainarot Namchoke was later retrieved by rescue workers.
Reportedly, two Danish tourists, Mr. Anderson Jens Jergen, 27, and his son, Anton Andersen, 4, were sent to Krabi hospital. Their condition was described as severe. 6 other tourists were slightly injured.
Mr. Surasak Mongkholchaisit, a Krabi port authority officer stated that the investigation about the incident is currently ongoing, and the police had summoned Mr. Anat Khaothong, 40, the driver of Pimsan 5, and Mr. Surasit Hempithak, the driver of Chainarot Namchoke, to give their testimony to the officers.