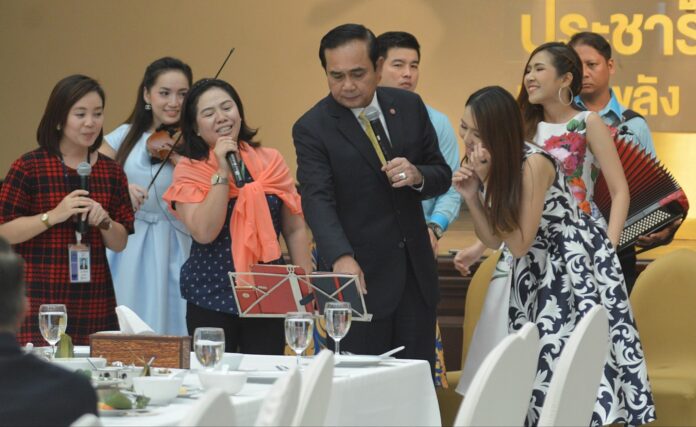 Arriving to interview TV host Nattakorn Devakula earlier this week about the suspension of his Voice TV news discussion show, I was ushered into a waiting room where another TV host was preparing for his program.
After exchanging pleasantries, the man said his program was also affected by the order a fortnight ago effectively censoring The Daily Dose program for discussing the roles and historical relationships between the courts and military.
"An order was given that we shall not utter the names of Prayuth and Prawit for a week as a punishment," said the man, referring to junta leader Gen. Prayuth Chan-ocha and his deputy Gen. Prawit Wongsuwan.
He said this with an air of normalcy, as if talking about the weather, as he buried his attention into the notes on his computer. It's as if such arbitrary censorship has become the most normal thing under Juntaland's tropical sun, unworthy of being upset or angry about.
I asked why they were being punished, and whether the order was communicated directly from the junta. The co-host couldn't pin down the reason for the punishment. He added that the message, or order, from the military was conveyed through Voice TV's management.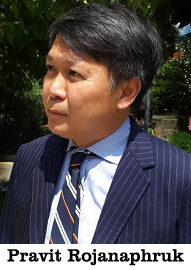 Our conversation ended soon after Nattakorn came into the room to fetch me for our interview. The brief conversation with the host got me thinking about the recent popular notion of yue paen (อยู่เป็น). The words literally mean knowing how to live – or better still – how to survive. It is widely used by some of those unhappy with military rule over the past two and a half years as their guiding principle.
Protest against the military? Yue paen. Oppose the constitution? Yue paen. Call out the junta's hypocrisy for self-dealing and graft? Yue paen.
Lie low, accept the military's rule and rules as normal, and just wait for them to leave or self-destruct. This is how to avoid trouble from the armed men in uniforms who staged the 2014 coup.
Examining such ethos positively, yue paen is a based on the perception that it's not worth risking's one freedom and career to fight against entrenched military dictatorship and the powers that be. Some of them will say Thailand is not ready for democracy, or at least not ready or willing to oust Prayuth and his men.
These people are not coup apologists or Prayuth's sycophants. They just think it's not worth a fight or that it's futile and reckless to resist. Instead, these people prefer to wait until the junta falls through its own undoing.
There are more traditional Thai sayings reflecting such ethos. Sayings such as "Do not use a stick to lift a log" or "When the current is strong, do not sail the boat to block it" come to mind.
So those who know how to live or survive continue to enjoy gossiping or verbally attacking Prayuth through their social media accounts set under pseudonyms.
People such as anti-junta activist Jatupat "Pai" Boonpattararaksa, in prison for two months now under lese majeste law for sharing a BBC biography of the new King on Facebook is probably a poster boy for not knowing how to live under the yue paen philosophy. Some of those who do not know how to live in Juntaland also fled the country and can be cited as other examples.
On the negative side, the yue paen ethos can be seen as a lame excuse for self-preservation if not cowardice by those against the junta. These people are just abandoning their duties as citizens as they reduced themselves to a mere docile population.
Personally I don't know how to live, or at least try not to get used to life under the junta. I continue to regard the military regime as illegitimate and their orders as unlawful – although I try not to break them.
I don't know how to live under military rule because 'knowing how to live' means living like what the junta would have wanted us to live – as a docile population ruled by an illegitimate regime.
In the end, whether you know how to live or not or stand somewhere in between, our collective decisions will affect the destiny of Thailand, for better or worse.
Ed. note: A portion of this column was unpublished due to concerns about the lese majeste law.